If you celebrate St. Valentines day, then you probably know what it means to heart somebody. It is a day to show love to the elderly, less privileged, homeless, loved ones and many others. People often show affection in different ways and the most common way is to share greeting cards or attractive gift-wraps with greeting cards. For these gift-wraps and greeting cards to look very attractive and heartwarming, you need the perfect tools like heart brushes to design them for clients or for personal use.
Photoshop heart brushes are the perfect tool to use for Valentine gift card designs and more. It is not limited to just Valentine but also weddings, birthdays and more. You can use this tool to create or add romance to how your greeting or invitation card looks. With basic Photoshop skills, you will be able to use these heart brushes without any stress. You can also take your designs top notch by downloading the full heart brush collections to make your designs catchy, attractive and interesting.
Get concept for another brushes:
60+ Free Photoshop Cloud Brushes
 Free and Best Heart Brushes for Photoshop
A good graphic designer will always experiment by combining and changing colours, sizes and more to create amazing results. These heart brushes are free for any designer to use for inspiration and to create wonderful graphical illustrations for websites, posters, greeting cards and more. You will get a lot of these heart brushes online but finding the best ones that fit your criteria can be tricky and time-consuming.
We have compiled a list of 30 Best Heart Brushes to use on Photoshop for fast and easy photo designing and manipulation both for professionals and amateurs, for their design projects. The list will also save you the time of searching through numerous sites to get what you are looking for. So if you are planning to do a job for a wedding, party, special occasions, anniversaries or even during Valentine's Day, then these set of heart brushes will come in handy. Check them out below:
Yanagi Heart Brushes stroke
First on the list is this nice looking heart brush set that is compatible with Photoshop 6+ and CS. Contained in the set is different heart brushes in various styles, it also includes heart-shaped swans as well. This set of photoshop heart brushes will definitely suit your preference when it comes to designing greeting cards, wedding cards, anniversaries, parties and many more. Get Yanagi Heart Brushes today, and make something attractive and interesting.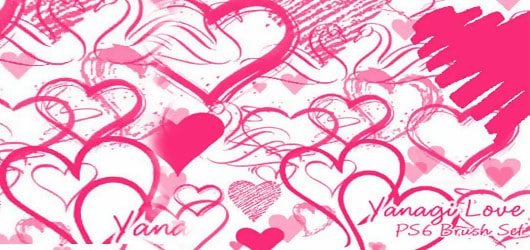 39 Cute Photoshop Heart Brushes
This is a set of cute photoshop heart brushes with 39 different brushes in different colours. These 39 Photoshop heart brushes come in ABR format only, so you can download it and start that design project that requires the heart.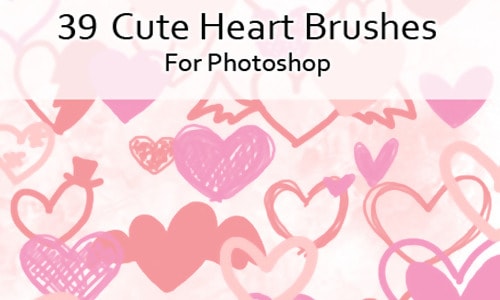 Valentine Heart Brush Set by Cheshire Angel
This Valentine heart brush set by Cheshire Angel is basically for designers who want to create something different from the norm. It is packed with 24 heart themed photoshop brushes and images as well. This will work perfectly well for your cards or banners as it is more of a grunge design. Get creative with this set and design an awesome background or theme for that special someone.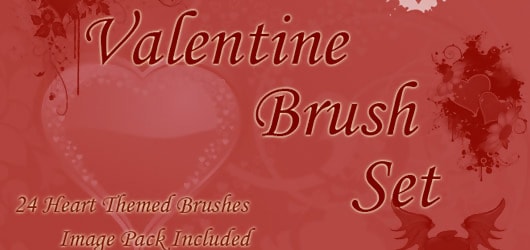 Heart Shaped Photoshop Brushes
This heart photoshop brushes are made specially to look and feel like freehand drawings. The heart brushes will add humour and simplicity to your designs. You can use these set of brushes to design wedding anniversary cards, wedding invitation cards, valentine's card and so many more depending on your creativity.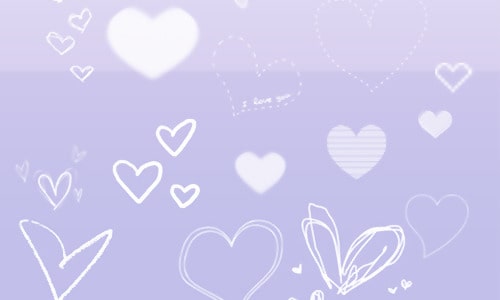 Romantic Invitation Heart Brushes
Romantic invitation heart brushes will work great for anniversary, wedding, party, birthday invitation envelopes. This set of photoshop heart brushes contains 17 medium resolution images of invitation envelopes. You can get awesome ideas using these romantic envelope heart brushes to create something for a loved one.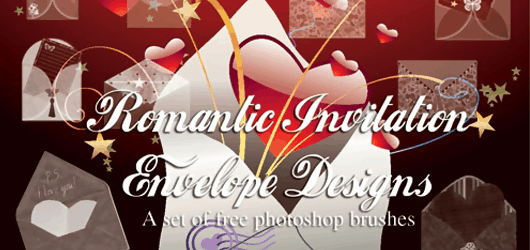 Heart Stamp Brushes for Photoshop
The design of these photoshop heart brushes is different. It is meant to be used as a stamp on your cards, photos or banner designs. So if you want your designs to have that distinct touch like it was hand-made, then this is what you need. Download it using the link below.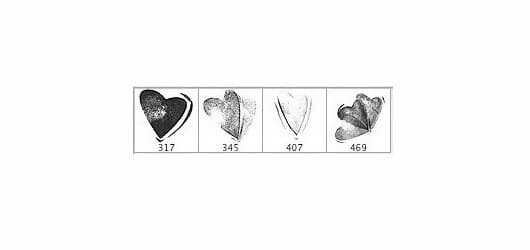 Photoshop Assorted Heart Brush Set
If you have been finding it difficult to get a mixed collection of heart brushes, then photoshop assorted heart brushes is just perfect for you. It contains around 33 assorted heart brushes for photoshop 5.5+ users and also an image pack for those using other graphic design software.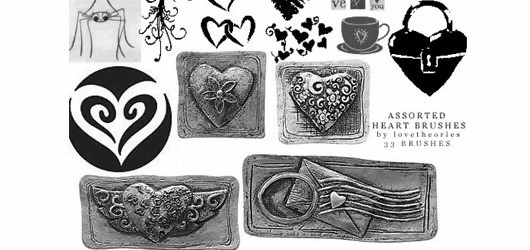 Hearts n Bokeh Photoshop Brush Set 1
Hearts n Bokeh photoshop brush set 1 contains beautifully created heart brushes that are compatible with Photoshop CS and above. This heart brush will make your designs look smooth and colourful, so get this set now and be creative with different design ideas.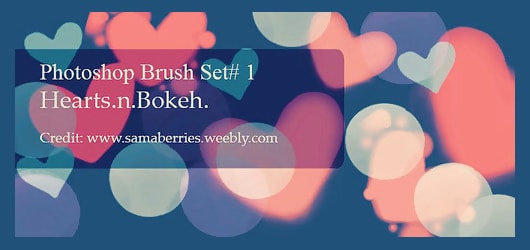 Valentine Photoshop Scatter Brushes Vol. 3
With this photoshop heart brush, you get a variety of heart brushes in floral swirls and flower designs. The brushes can be used to highlight images or as a standalone element in your design. You can also use these brushes for border decoration or background designs. There are 18 grungy floral brushes with great effects.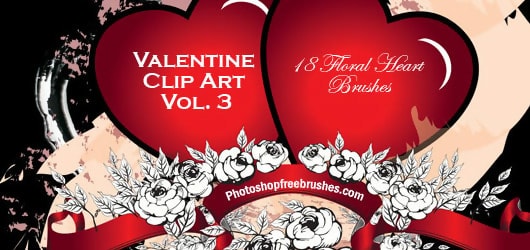 My Heart Brushes By Mcbadshoes
Is a set of 18 free photoshop heart brushes created using paintbrushes. These heart brushes will give your design projects that paintbrush effects since it was made using the same effect.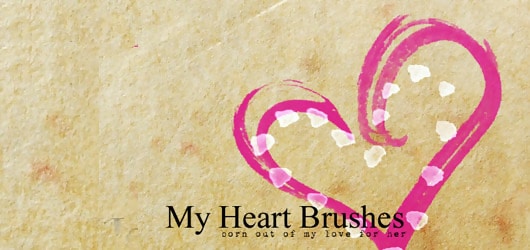 Free-Hand PS Heart Brushes Photoshop
This is a set of heart brushes by Sunira. They are all hand drawn photoshop heart brushes to give your designs that free-hand effect. It will definitely look amazing on any card or graphical illustration you add it to.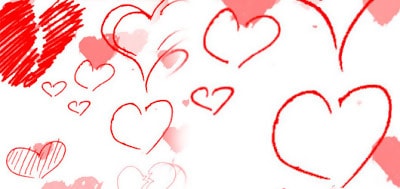 valentine Photoshop Heart Brush Pack 1
Heart brush pack 1 is created by TwilightBite. It contains 50 grungy and hand-drawn photoshop heart brushes, they have the perfect shapes to be used as the main element in a design.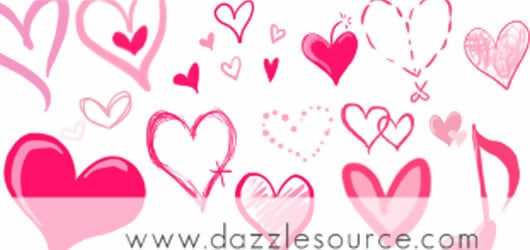 2010 Valentine PS Brushes by Fiftyfivepixels
Fiftyfivepixels created a wonderful set of photoshop heart brushes for every designer. You can use them as backgrounds, highlights and more, in your designs. All the heart brushes have their distinct design and shape, making it possible to use them on birthday cards, greeting cards, anniversaries and more; not just for valentine's day only.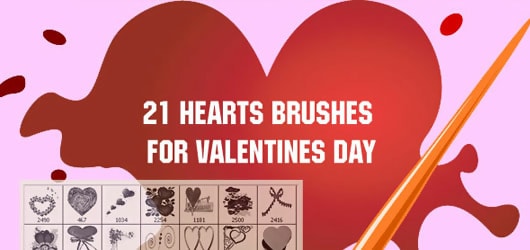 Hearts by Fotoristic – Heart Brush Stroke
This is a set of heart brushes with 10 photoshop brushes that you can use free for any of your works s or projects. Get this set of heart brushes and make something for that someone you cherish so much or for a client. This will definitely wow your clients if you get creative enough with these brushes.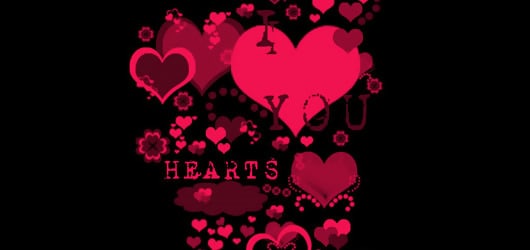 Heart Scatter Brush Photoshop
This photoshop heart brush set contains 25 brushes in various shapes, colours and styles. It is compatible with all versions of Photoshop, but if you do not use the software, an image pack is also included for you to download and use all for free. Check it out using the link below, it is awesome!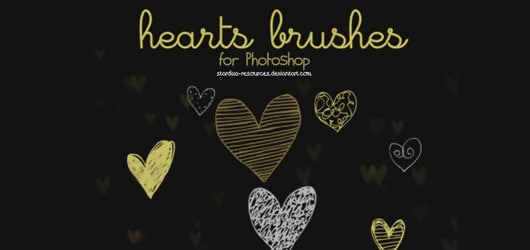 Deco Hearts Brush Set
This set of heart brushes was created by Brenda and it contains around 13 different photoshop heart brushes. They were made using Photoshop CS3 and are great to use for your graphic design projects or website banners and more.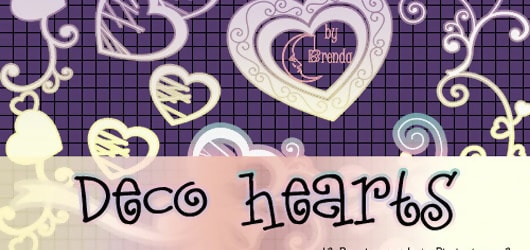 Photoshop Tribal Heart Brushes
Are you looking for a funky heart brush set to use for your next project? If yes! Then this should be your last point of call, this set contains a lot of beautiful funky shaped hearts. The heart brushes are mostly tribal designs, just download and use to get ideas.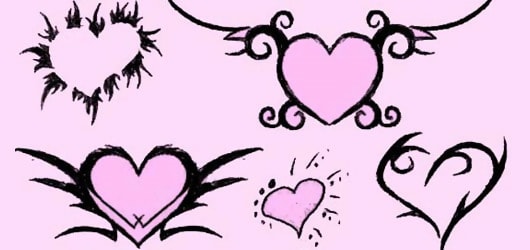 Grunge Heart Brushes Stroke
Enjoy this set of 23 free photoshop heart brushes as you work on your design ideas. You can use these heart brushes to fine-tune your grungy designs either for web, print or for personal use.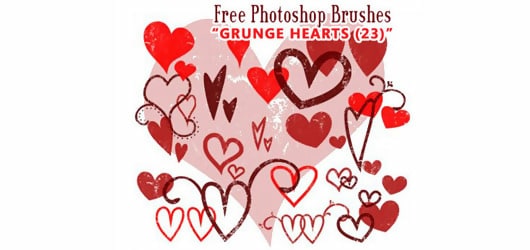 Flowers Swirls and Heart Brushes
This set contains an amazing 7 beautiful heart brushes in high-resolution. It was created using Photoshop Cs3 brushes and it will work wonders for your next design projects.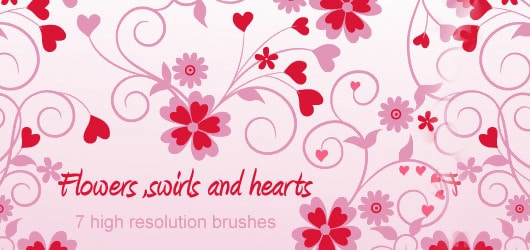 Valentine Floral Heart Brush
Get this valentine floral heart set of Photoshop brushes in high resolution. The set has about 22 heart brushes to use and they will give you the best results on your projects. Check it out using the link below.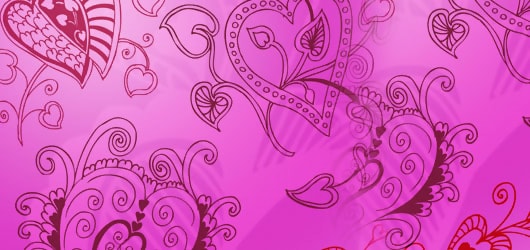 Vector Style Heart Brush Set
Vector heart brush style is a set of photoshop heart & valentine brushes that are made with Photoshop 7. All the heart brushes in the set are designed with a unique touch in different sizes. You can use this set of the brush to do about any design that comes to your mind. Check it out below.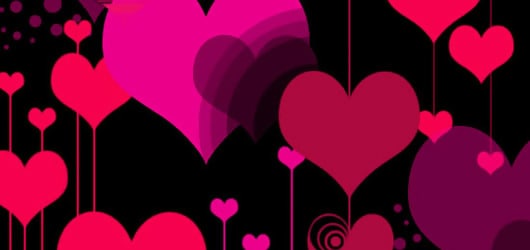 Brush Hearts for Photoshop
This is a set of 25 hand-drawn photoshop heart brushes by Zimmette-Stock. You can use these heart brushes for personal use but it is not compatible with PS7.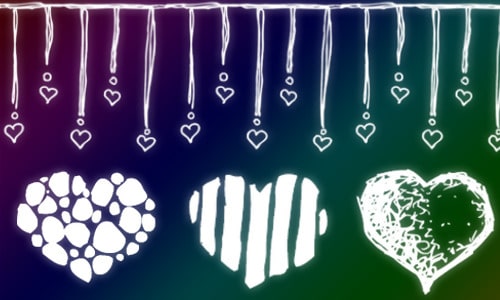 Heart Frames Brush Set
Heart frames brush is a set of photoshop brushes that can be used both for personal and commercial design purposes. But it is not totally free, you can only download a 545×545 .jpg file. The heart frames brush set can only be purchased for a small fee, from Romenig Pereira's blog, who happens to be the author.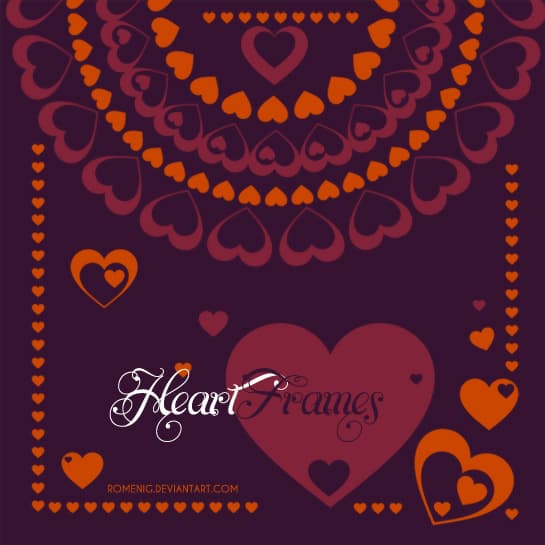 30 Photoshop Heart Brushes
This is a collection of 30 different photoshop heart brushes that are unique and beautiful when you add it to your valentine, wedding, birthday, or anniversary party cards. The 30 brushes come in high-resolution, ABR file format and also compatible with PS. You can get the set for $11 which is for a standard license.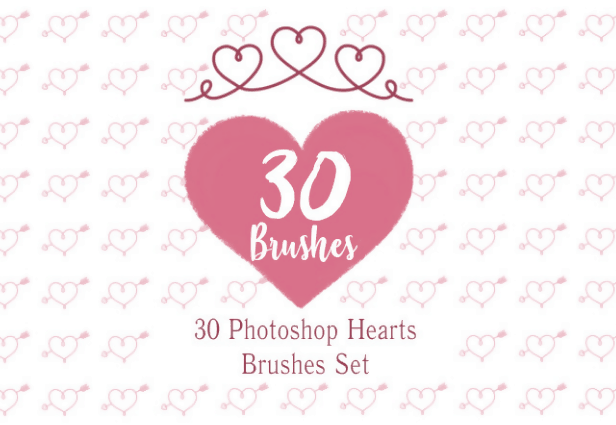 Hearts Photoshop Brushes by TatsuyaSaverem
Hearts Photoshop Brushes by TatsuyaSaverem is compatible with PS7 and above. These brushes are hand-drawn with stencils and ink in photoshop 7. You can use this heart brushes to make something colourful that looks totally hand-made.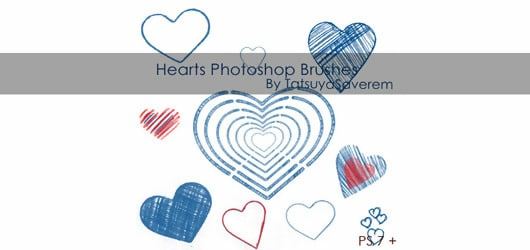 Hearts by King Billy – Valentine Brushes
This is one of the sets o heart brushes with the most collection. It contains about 61 photoshop heart brushes for CS3 but the author also includes a link for the PS7 version. It was made by King-Billy for other designers to use for free for ideas and more creativity.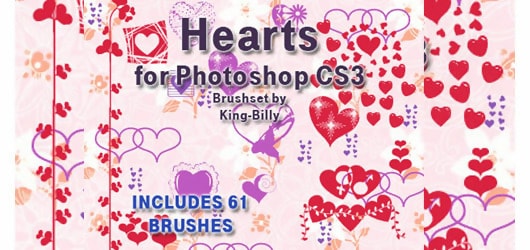 Heart Brushes by Xcassiex24
There are 20 photoshop heart brushes in this set by Xcassiex24. As a graphic designer, you can use any of the brushes to add style, attitude, affection to your projects.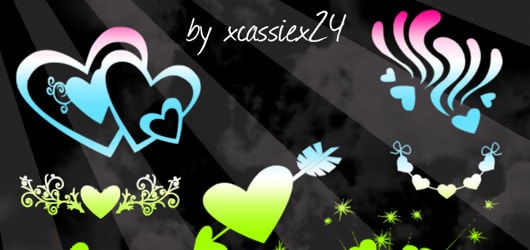 Heart Attack Brush Pack
Download these amazing brushes for photoshop today and add a grungy taste to your design. The pack comes with 8 heart brushes that you can use to decorate the borders and accents on your project. Check it out below.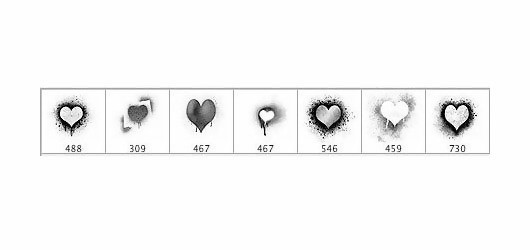 Photoshop Heart Swirl Brushes
This is for any graphic designer who wishes to add something cool and simple to his or her designs. These photoshop heart swirl brushes come in 14 different styles and shapes, which can be used as background for your cards or main elements in the design. Get this set using the link below.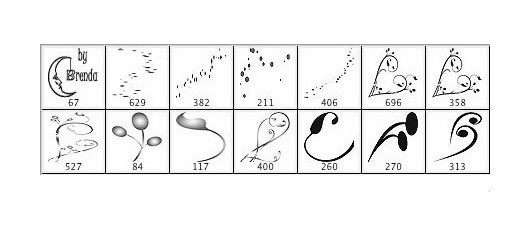 Mega Heart Brush Set By Dia
Looking for something with more than enough options? Then this mega heart brush set is certainly what you need. You can use these set of heart brushes to add stamps on cards for valentine, birthday's, anniversaries and so on or as backgrounds and highlights for other elements. You can also make out templates from these brushes. Get it now using the link below.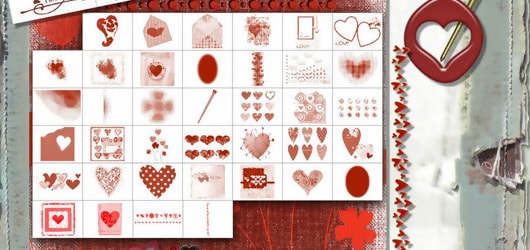 Get idea about different types of brushes :
Conclusion
Free high-quality photoshop heart brushes a not easy to come by on the internet, that is why we compiled this list of 30 best heart brushes to use on your design projects. The heart brush sets on this list come in high-resolution with images for those who do not use photoshop for designs. It is a great tool for both amateur and professional graphic designers and you can use them to create sophisticated designs for web, print or for photography. Most of these heart brushes are free for anyone to use, while some go for a small amount which is very affordable. We hope you will get the set of heart brushes you have been looking for in a long time to start that project you have been delaying. So get these brushes and start creating that Valentine or anniversary card for your clients, friends, family and so on. Subscribe to our newsletter and stay tuned for more updates.