Social media icons are excellent and creative visual elements. They often showcase specific social media platforms. Through them, a website becomes vibrant, professional, and clean in appearance. Since you want interaction with your site through visitor engagement, these icons are a necessity. For this reason, attention-grabbing and well-designed social media icons are what you will need to place on your site.
One daunting task, however, presents itself here. You need to find that particular social media icon design that will suit and work well with your site. It is here that we come in to save you those frustrating moments of hair-pulling. We have put together some 30+ social media icons for your enjoyment and selection.
The social media icons we are about to present will open for you an array of options for their use and application. Showcase a harmonized brand style by incorporating them in your webpage. Then switch over to your business cards and print stationery, incorporating them to complete your brand style. The options are immense, creativity is your only limit.
30+ Beautiful Free Flat Social Media Icons Sets
These social media icons come in the loveable and easy to use formats of either PSD or vector. Isn't that just great? No matter which creative side of the divide your allegiance is, these icons will not let you down. The quality of these icons is well beyond the tremendous. You can expect no less. No need to fear your quality standards being crushed by some mediocre icons. It is all about impeccable quality from the get-go.
As you put these cool ions into use have SEO set in your mind. Yes, something SEO will indeed be taking place behind the scenes. As you plunge into the social media scene via these amazing icons, your business will get that much-needed publicity via SEO. Through social sharing, plenty of benefits become available to your business from those main search engines. Higher ranking of sites often comes as a result of that sharing via social media that customers often do.
It's now time to reap the extensive benefits of these 30+ social media icons, that won't have you breaking the bank to get them.
Social Media Icons
These icons are available for free. They come in assorted styles ideal for any of your graphic design, mobile or web project. These pixel perfect icons are available in either vector or png format. Download them conveniently and edit them to suit all your designs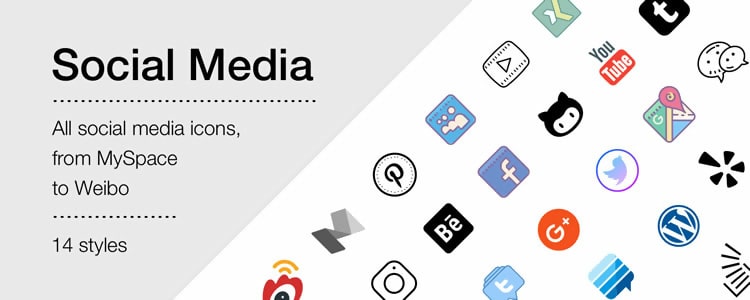 AI Format Socialtograms
This lot of social media icons is a collection of icon packs and individual logos/brands. These pictograms are vector based and are available freely for download.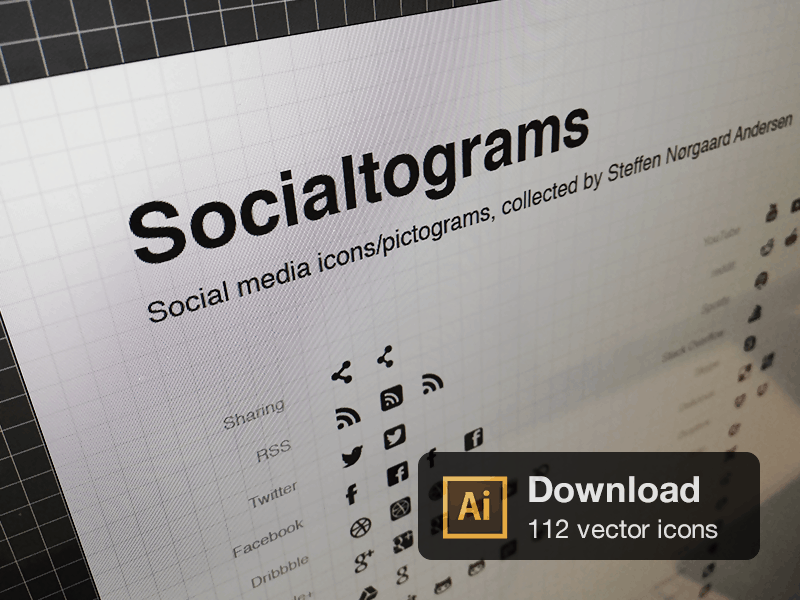 48 Social Icons .sketch
These minimalistic icons are quite unique. They come created with a style sharing feature. Any change in one of the icon's border, fill, or color will roll out the same changes to the rest of the icons.
The icons come in rectangle or elliptical bounds. Though the name states sketch format, these icons are also available in PNG, PDF, SVG, and EPS formats.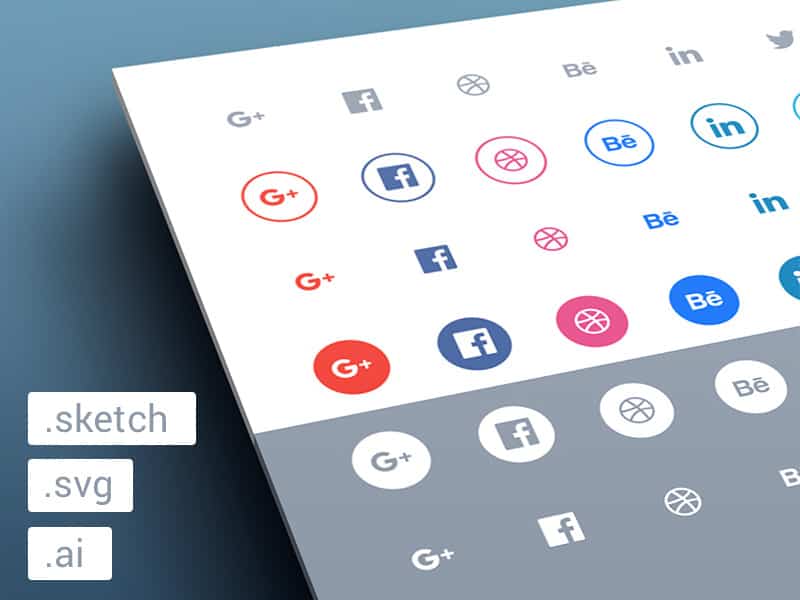 Social Media Icons Large Set
These are some of the interesting hand-drawn icon styles out there. Be prepared to experience the interesting and vivid designs on show here. The icons are ideal for use in blogs, stationery and all those creative projects you may think of.
The icons are fully editable via your preferred graphics software.
What's inside the pack:
36 outlined social media icons in PNG (on a transparent background)
36 sketched social media icons in PNG (on a transparent background)
36 outlined social media icons in AI (you can change the color and the size endlessly) + EPS
36 sketched social media icons in AI + EPS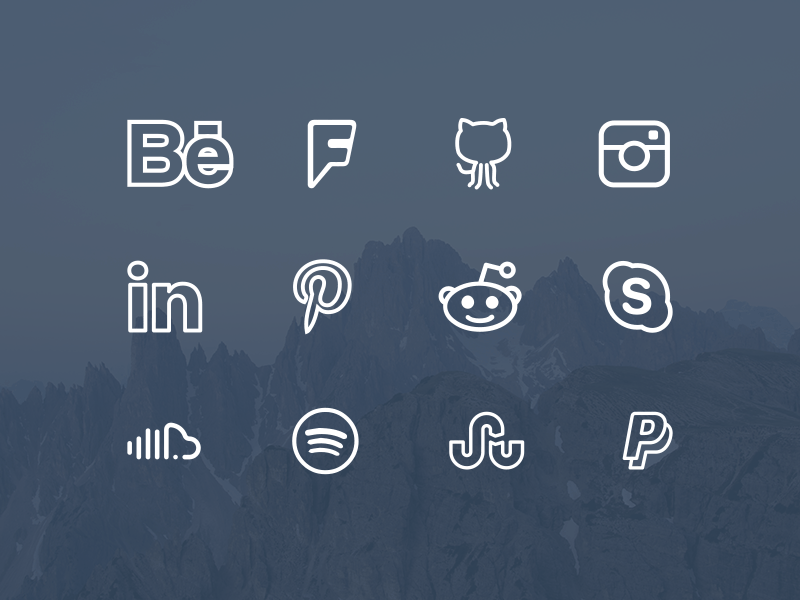 Web Social Icons
This pack of icons contains both web and social media related elements. The icons also come in five different views to match your preferences. You can go for either the white bubble, black bubble, icon only, colorful bubble or in circular counts icons.
Feel free to play around with the web symbols, social icons and signs to communicate your online related activity.
The web social icons pack comes with an EPS file, an AI file, and a JPG preview file. There is a bonus seamless pattern made up of social icons.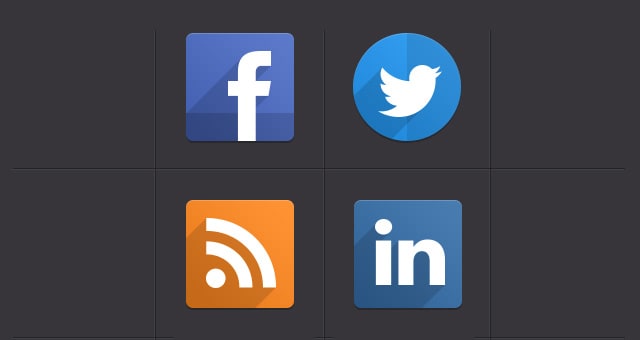 48 Free Social Media Vector Icons
This set of social media icons comes to you courtesy of one designers' project done while passing time.
The set is quite good. Its minimalist feel and outlook make it worth having amongst your icon collection.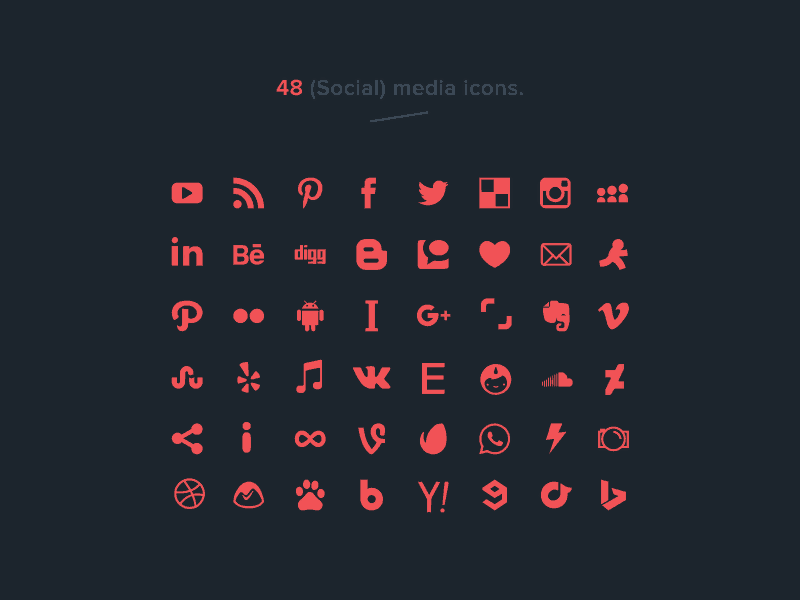 89 AI Social Media Icons
The creator of this one put together a total set of 89 icons with unlimited permissions granted. You have all the reason to try out this social media icon set.
Take the opportunity presented and download, customize, rework and pass around this icon set.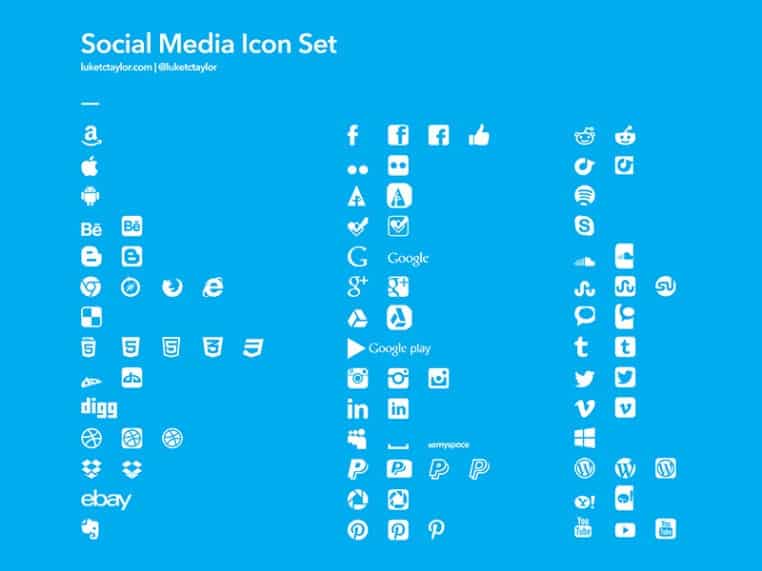 Outline Social Icons
When seeking out simplicity, this icon pack makes the list. No sketchy stuff, reflections or crazy gradients here. It features the official social media logos in their pristine simplicity. So, if you are the die-hard minimalist, your search is complete. The Outline Social Icon set will do it for you.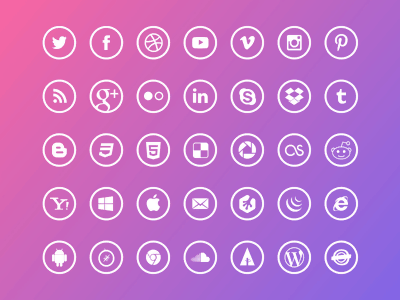 Hand-drawn Social Media Icons
Bring out the buzz and the color of your blog or web age with these awesome hand-drawn social media icons. Your stationery and other designs will also get that extra punch with these icons.
The pack gives you;
16 hand-drawn social media icons in PNG (on a transparent background) in 3 different designs (see in the preview image)
16 hand-drawn social media icons in AI (you can change the color and the size endlessly)
Hand-drawn icon creator in PSD (with frames on separate layers)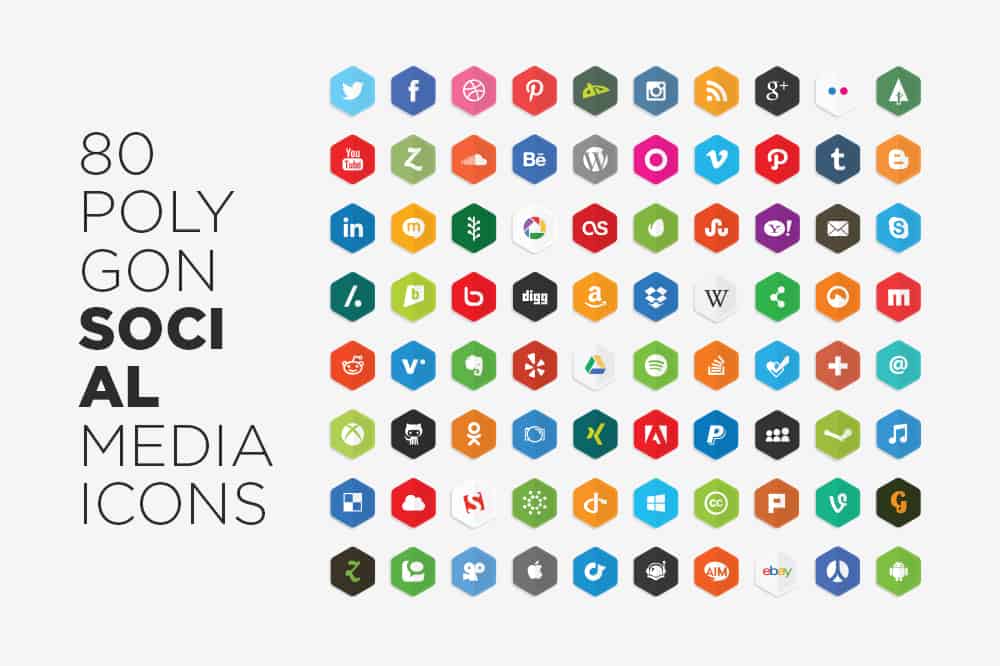 28 Super Awesome Icons
This icon set features 112 icons in the free version and 560 icons in the premium version. The icons are fully adjustable and come in 32px, 64px, 128px, 256px, and 512px sizes. Included in the set is the original PSD file.
The creator has also named each icon accordingly which makes adjusting and updating them easy
This set has a total of 28 social media icons available for free download.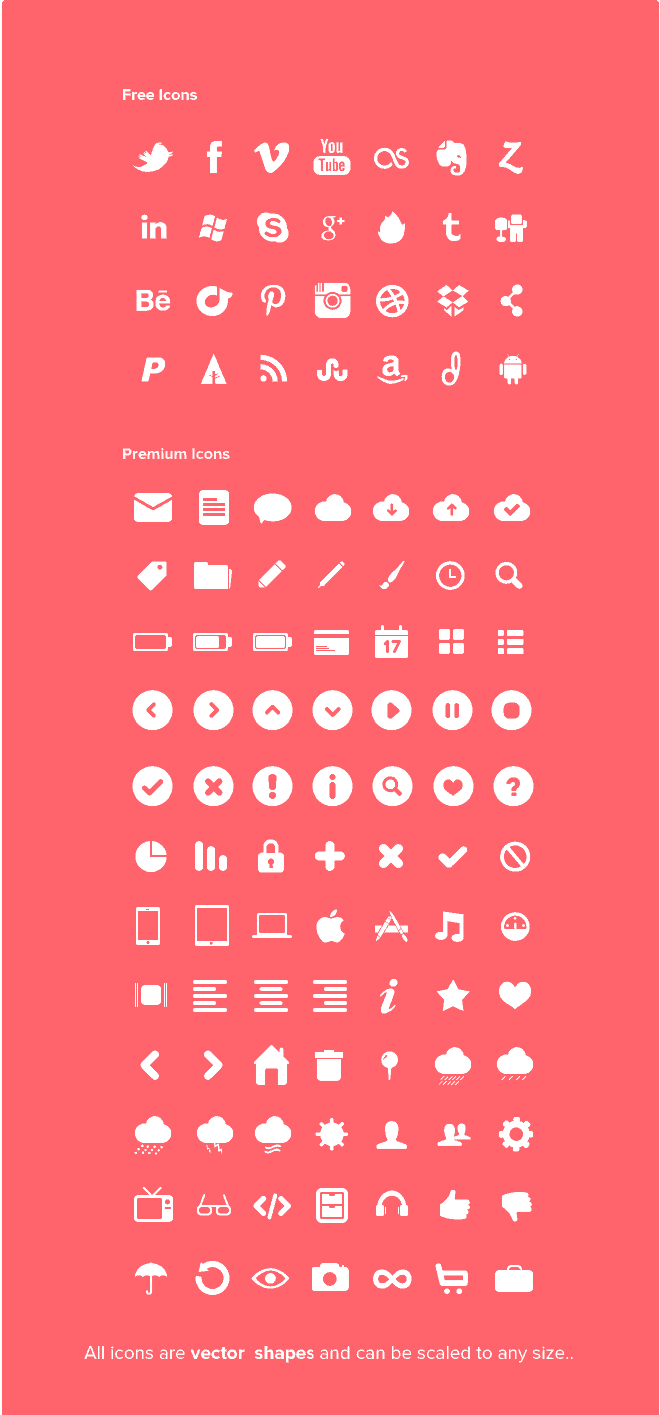 24  Drawic Format Icons
Drawic is a minimalist styled small set of SVG social media icons.
Regardless of the zoom level on your browser, these icons remain crisp and sharp in appearance

Complete Simple Social Icon Set
The social media icons found in this icon set are 100% editable vector shapes. The set also packs PSD and PNG formats of the icons as well. The alternate sizes and versions of the icons in here give you to a total of 336 quality icons.
The premium version of this icon set features three additional styles of the icons. These include two additional sizes, plus square, rounded and circular shapes.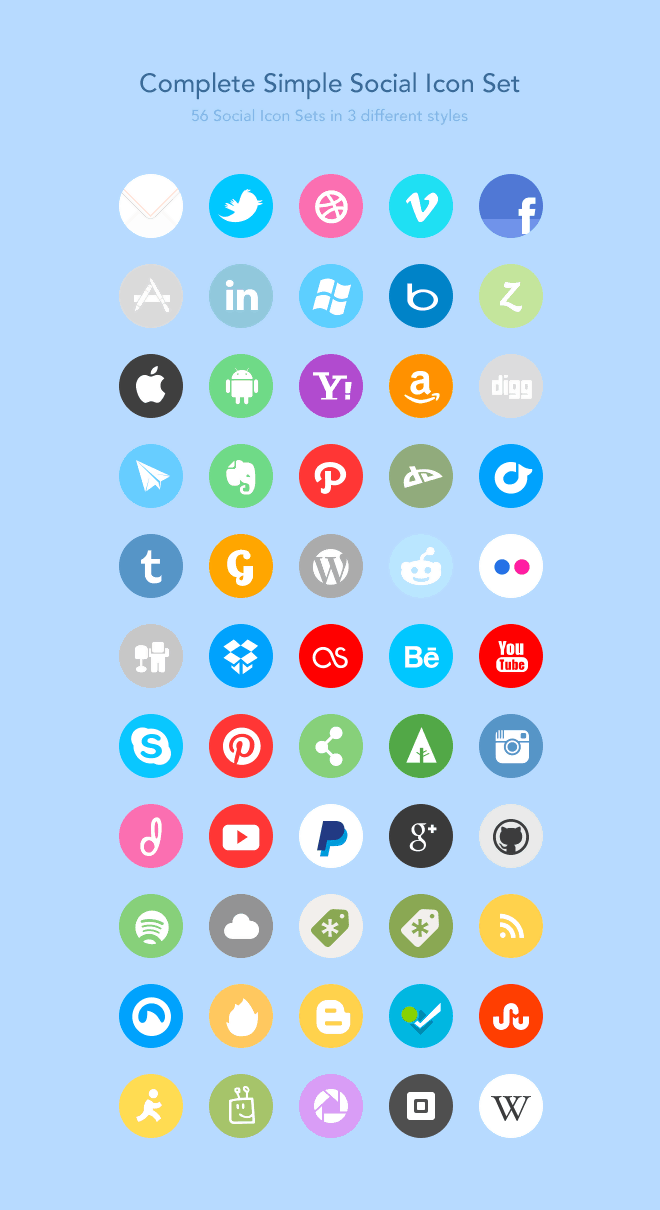 The Social Media Badges Icon Set
The colorful and bright aspect of this icon set makes it truly stand out. The 20 social media icons in here come neatly designed in badges. The PSD file is fully customizable. You are sure to have all your major social media icons covered with this icon set.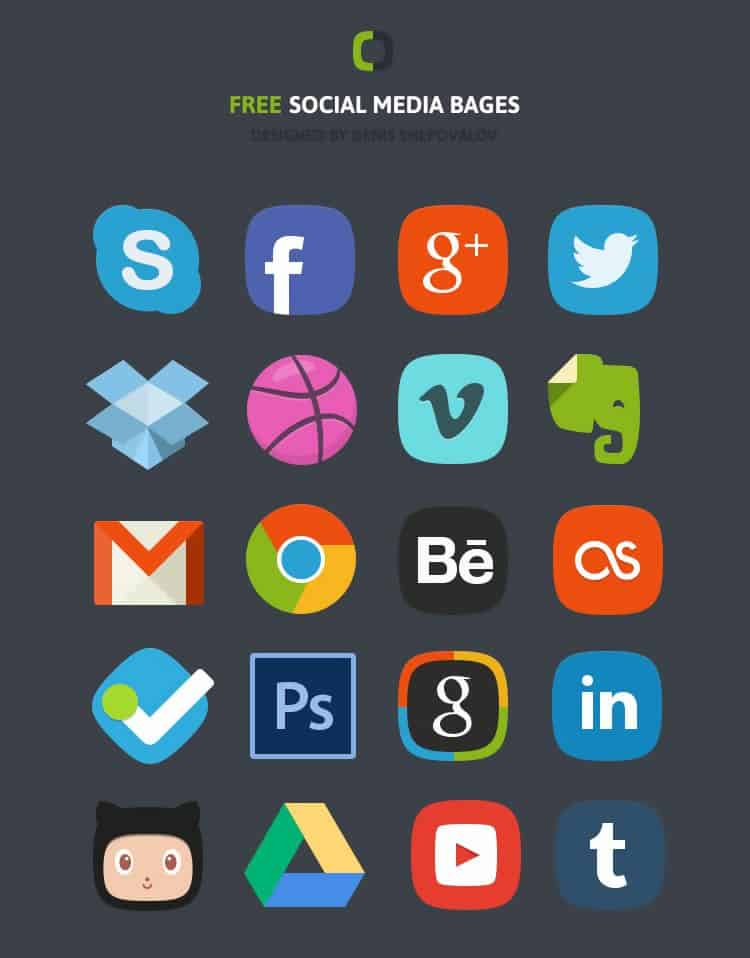 77 Free Social Icons
Go ahead and access over a load of social media icons that are available in black, white and color styles. The social media icons are pixel perfect in detail, 100% vector based and include individual SVG files.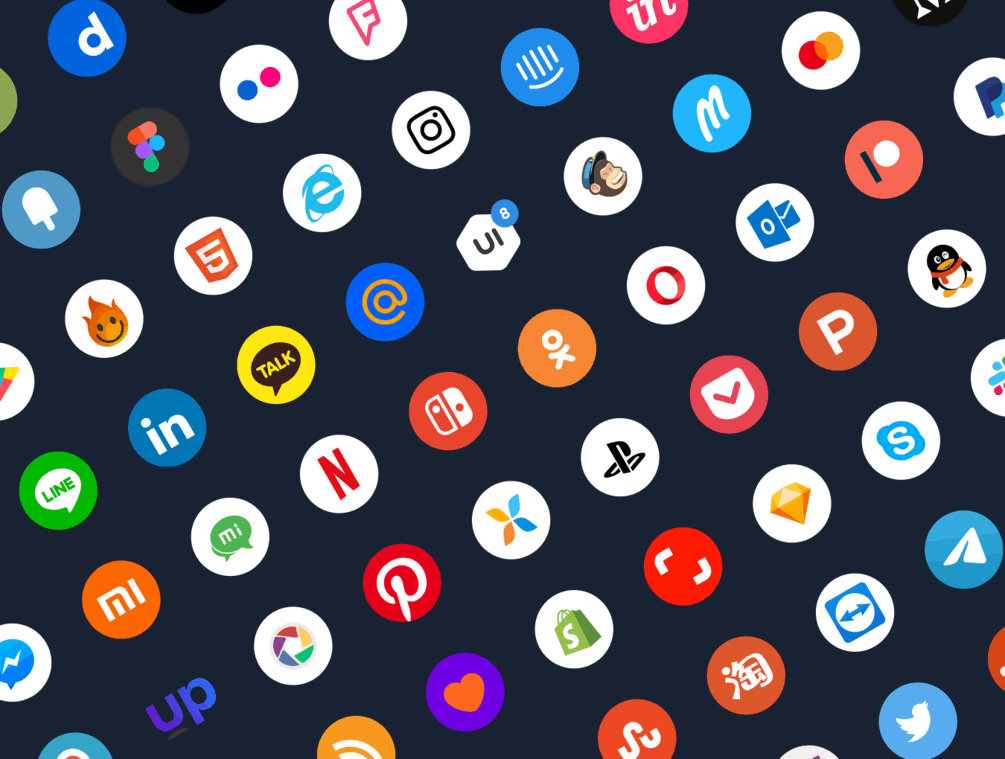 Social Media Icons
This is another pack of social media icons that is well suited to platforms and websites of a social nature. The 72 icons come in five additional styles sets. You have the choice of metro, long shadow, poster, round and hexagon styles to match your unique preferences.
The icons are fully customizable, scalable and easy to use.

Social Flat Icon Set
Finally, a clean and nice icon set is here for you.
This social media icon set is surprisingly light. The selection of icons is minimalistic and well laid out. You will definitely enjoy having this icon set incorporated into your web or design project.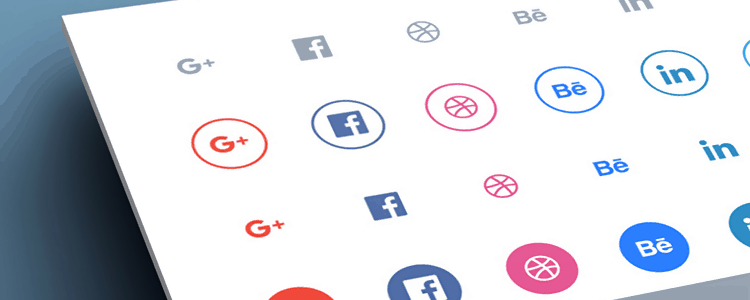 Flat Social Media Icon Set
When you don't find an icon set that suits your very strict and unique needs, why not make your own. That's what the creator of this tasty icon set did. You will definitely come to appreciate his efforts as the icons are really cool. Another plus is that it might actually be the sort of icon set that you have been looking for all this time.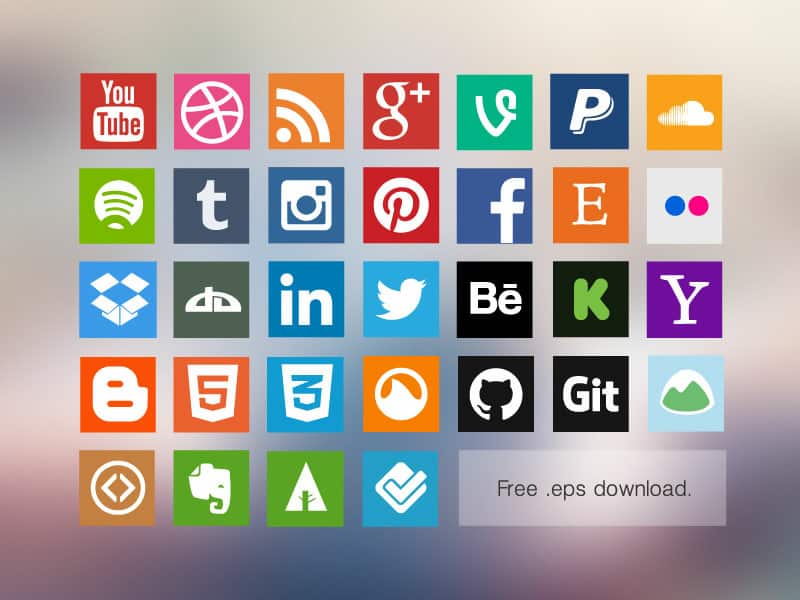 14 PSD Flat Social Icons
It's interesting when projects that someone else considered unworthy get to make their mark and become appreciated by others in the market. This icon set is an example of this. The 14 PSD format icons are nice and flat which makes them ideal for a variety of web or blog pages as well as other design projects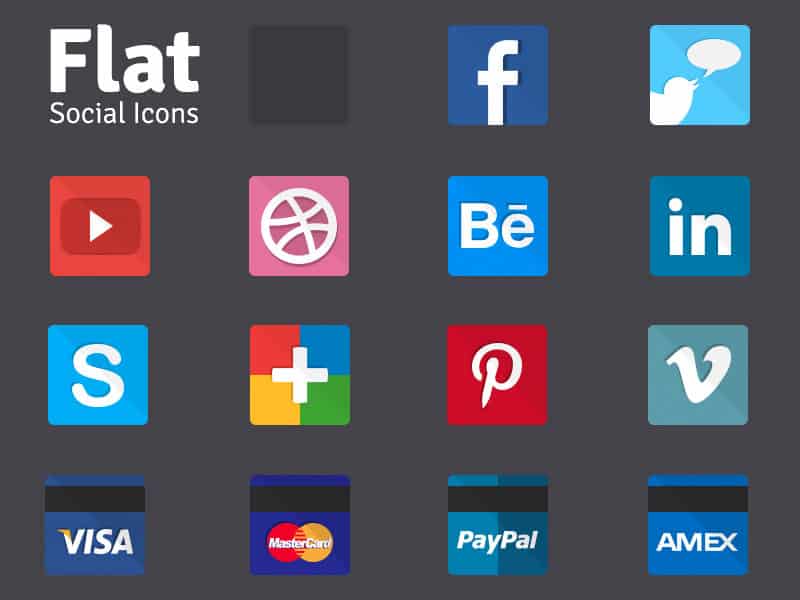 16 Flat Social Icons
Long shadows seem to be catching on in icon design. These flat social media icons have not been left behind on this. They feature elongated shadows that enhance their visual appeal. They seem to be popping up from the background. Get the editable PSD and tweak it to suit your tastes.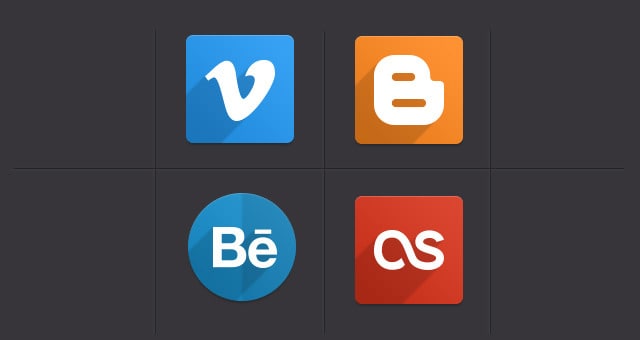 Flat Style Social Media Icons
Join the many fans of flat icon styles by downloading this icon set. The PSD file has 30 select vector icons for you. Go ahead and add that flat icon style to your web design layout.
Add a clean, flat style to your web designs with these social media icons. The set contains 30 popular vector icons in one PSD file.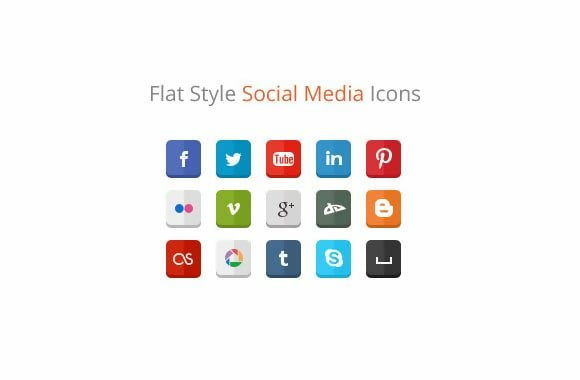 True Social Buttons
We all like it when icons are clean and not so loud. The true social buttons pack works well to achieve this. The icons are available for download in PSD format. The different icon styles and badges will definitely boost that minimalist look for your site.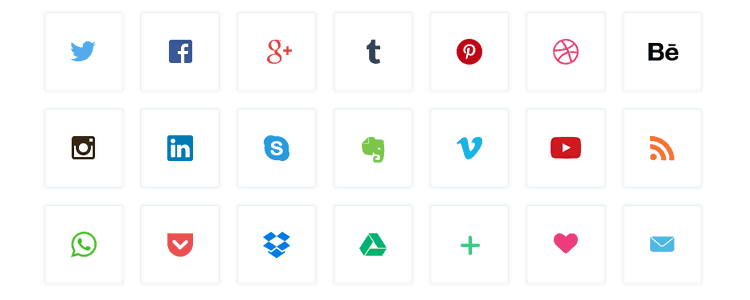 40 Icons in PSD & PNG Formats Geekly
These circular styles social icons are simple, colorful and minimalist. They work well if you have a preference for standards and simplicity. The icons are striking and eye-catching as well. The icons are available in PNG and PSD formats.

Long Shadow Social Network Icons
The long shadow design of these social media icons has a unique twist. The icons almost have a subtle 3-dimensional effect to them. The icons are available in varied sizes; 16×16, 32×32, 64×64, 128×128, and 256×256. The simplistic design of these icons also means that your web or design projects will always look neat and professional.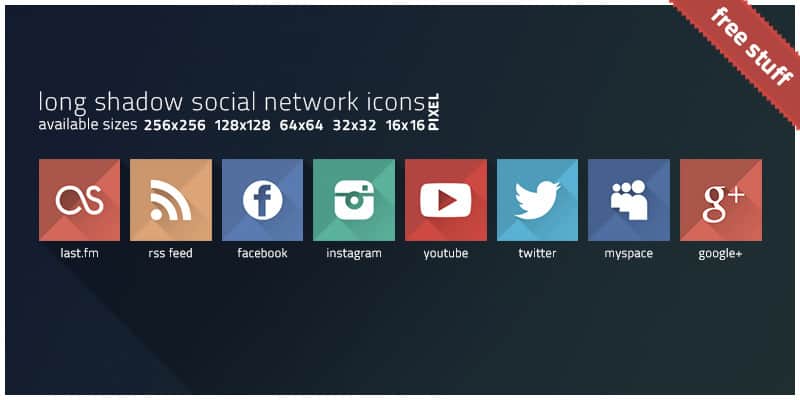 Social Media Thin Icon Set
Get ready to step away from the solid colors, fills, and gradients. Usher in this stroke/outline inspired social media icons. These social media icons are a breath of fresh air. Use them and you are bound to leave an impression on the visitors of your website. Another plus is that your design projects will definitely leave people talking.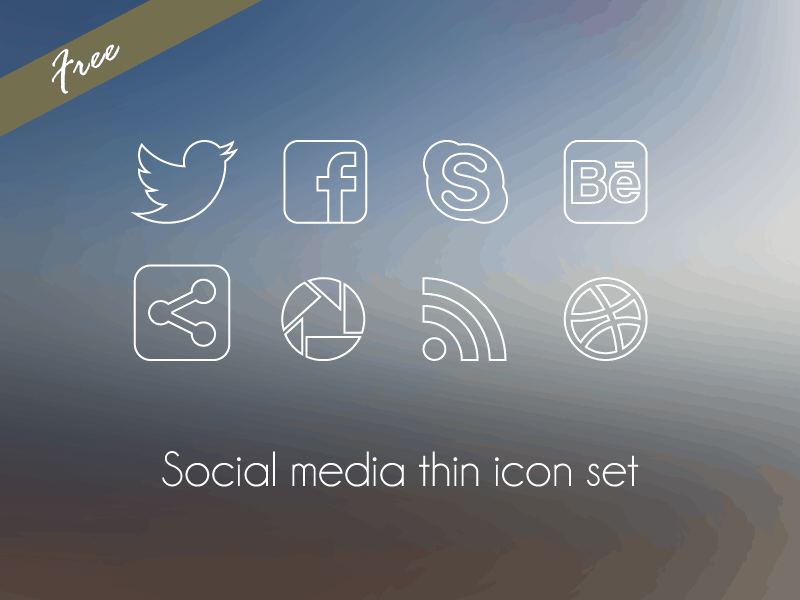 Social Icons
Monotone and minimalism come together to deliver some of the best social media icon sets available for free. The icon set is composed of five styles that can be applied to a variety of web projects and other creative works.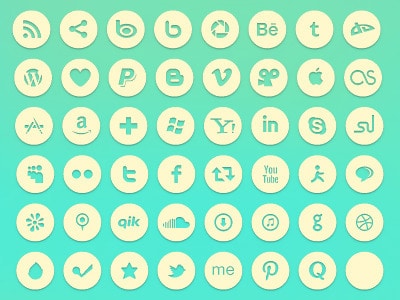 Social Dark Glyph Font
This set of icons goes for the dark background theme and style. This is your ideal option when dark background icons come to mind. The icons are simple, flat, and cool. The grays used can complement any dark themed project you may have.

Old School Social Icon Set
When old school ranks in with the new school, then you definitely have to take notice. These social media icons are cool with their embossed button effect in the circular style. The icons are designed to blend in well with both dark and light backgrounds.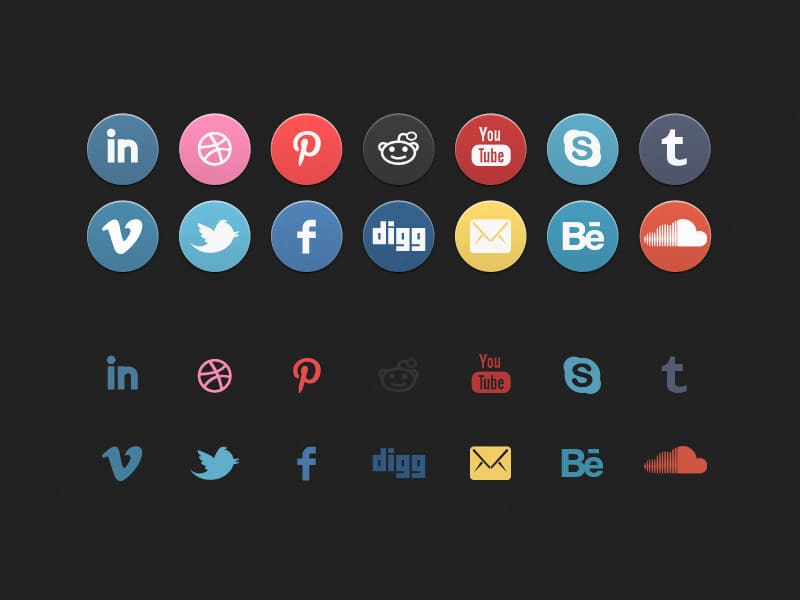 Social Icons with States
This is clearly one of the best icon sets yet. The creator has put together some awesome social media icons with states. The icon styles presented show the icons in normal, hover, and the clicked status. This is a great feature for instances where you want an interactive experience on your website or blog.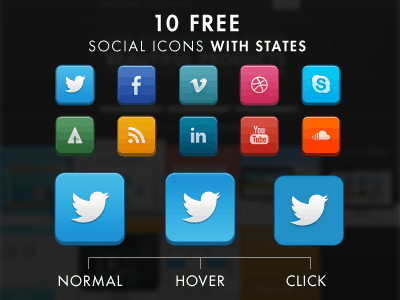 Free Flat Icons
These are 50 splendid icons inspired by the flat style featuring traditional and recent social media icons such as Facebook and Envato. The icons are available in mono-color and vivid color styles. This flat icon set is a great asset in livening up blogs, web pages, and design projects.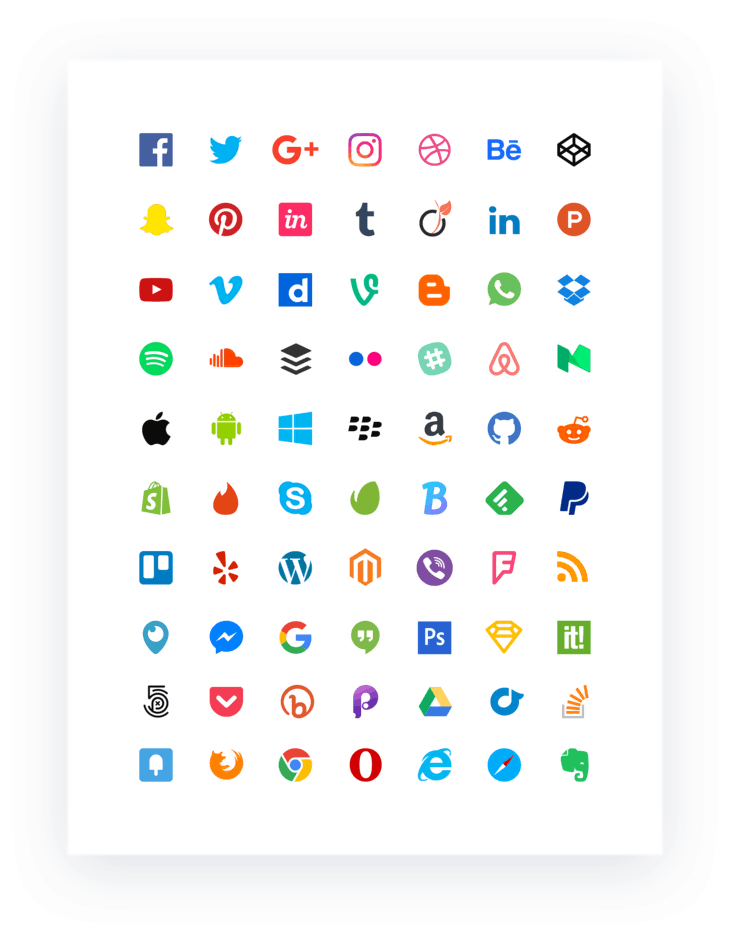 Vector Polygon Social Media Icons
The Vector Polygon icon set adds to the family of minimalistic icons. They are clean and look good. The Vector Polygon set contains 15 of the popular social media icons. With this number, it still has you well covered in most instances of application and use.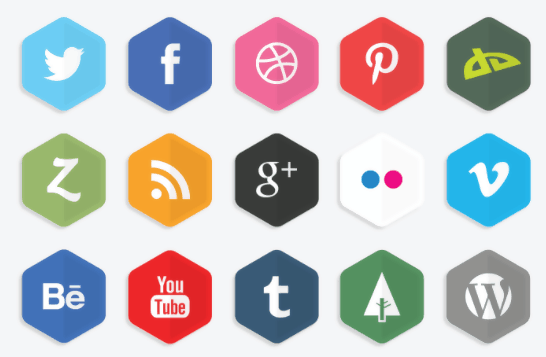 Nucleo – Free Social Icons
Nucleo comes in with another set of pretty neat social media icons. A full array of 40 icons available in 3 distinct styles is what Nucleo offers you. Fire up sketch or illustrator and put this great icon pack to use. The well-designed icons are ideal for that web project you have been working on for quite some time. Right?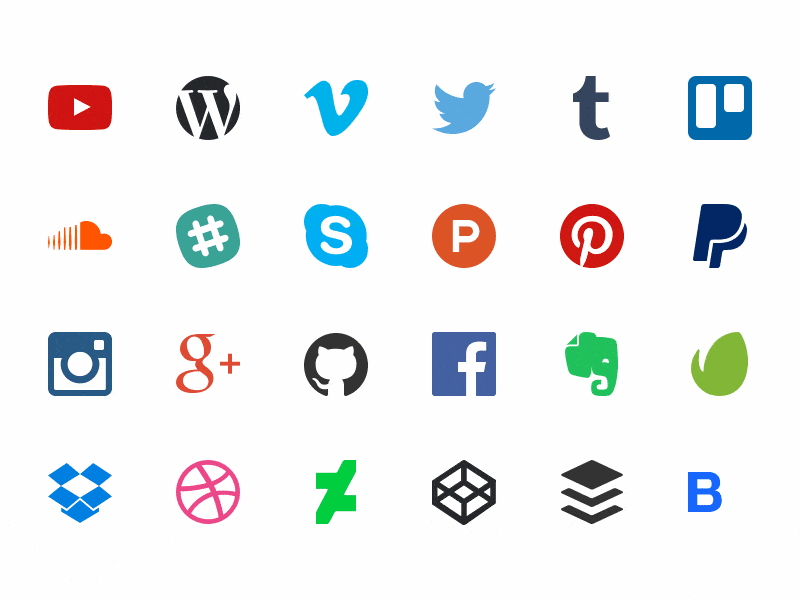 Publicons
Publicons has set itself as the go-to icon option for platforms and publishing. The plublicons icons are built for web projects and come in PNG and SVG formats. Working with these icons is quite easy and they seamlessly become part of tour email templates and web projects. A point to note is the icons are fully open source. So go ahead and visit Github and fork them out.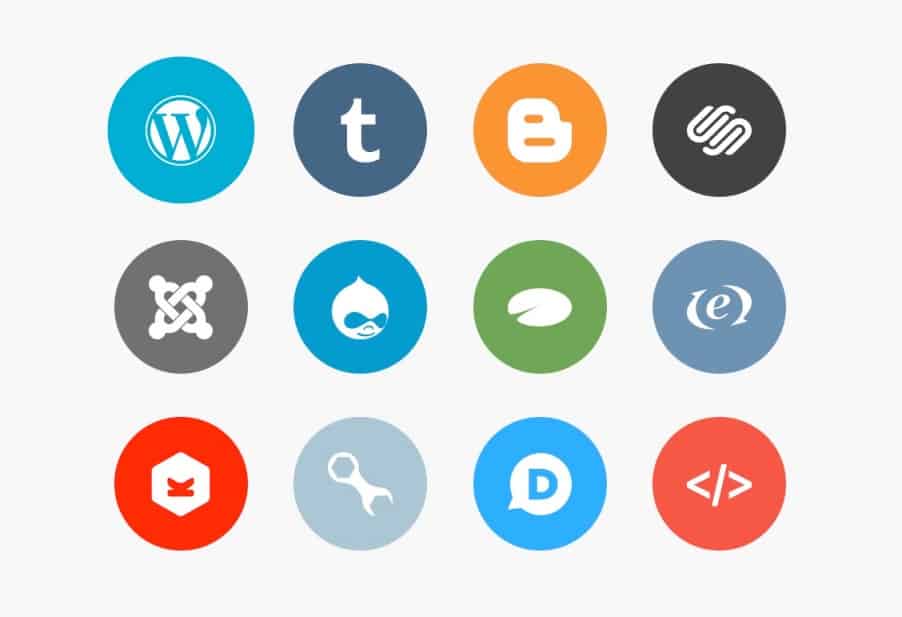 62 Font Socialicious Icons
Every so often you will come across icon creators who work in an out-of-the-box approach. The creator came up with this icon library in the form of fonts as an extension of Font Awesome and Twitter Bootstrap. However, the social media icon pack can still be utilized as a standalone in any of your web projects.

Finally
These social media icons listed above and many more out there are readily available for use in your next website, business card, email signature or even resume.
As has already been mentioned, a majority come without any cost implications to you. They are absolutely free to use and distribute. That is why many designers love these social media icons.
The source sites await you. Proceed on and download icon sets of your choice via the links provided.
From what has been showcased, regardless of the web project at hand, there will definitely be a social media icon set that works for that design you have in mind.