Gold layer styles are one of the graphic designers' dream elements in the making. As the name suggests, layer styles are effects in styling meant to alter how a particular layer appears in the PSD document being worked on. Most of the time you will find layer styles being applied to the text. However, these layer styles also work very well for backgrounds, imagery and other layer types. A more familiar set of layer styles – that you often work with without much of a though – are Photoshop's preset layer styles. You have many times used the Inner Glow, Drop Shadow, Bevel and Emboss, Stoke and many others while working away on your designs.
Layer styles take away the hard work of applying a variety of effects on your designs. The whole process becomes very simplified when layers styles come into the picture. In their application, gold layer styles link to every element in the particular layer applied to. Whenever you make edits or move the particular layer, the styles get applied to the modified contents accordingly.
Free Gold Effect Photoshop Layer Styles
This adaptability characteristic of later styles allows for uninhibited experimentation on your part. Moreover, you can interchange styles, apply styles to separate layers, and alter the arrangement of your design elements. All this you can do without worrying about breaking the layers styles. You will come to agree, if you are yet to, those layer styles are just simply a joy to work within any design project you may have at hand.
It is here that we come to showcase some of the wonderful gold layer styles that are available to you. These gold layer styles are a sure and fast way to have any text or image in your project acquire that realistic golden appearance.
80 Gold Layer Photoshop Styles by jen-ni (via DeviantArt)
In this gold layer style package are various glittery and shiny layer styles available for you to choose and apply in your projects. You will encounter some layer styles that have that 3D effect that seems to pop out at you. Additionally, there are some black and silver layer styles options which are an added bonus for you. It is unimaginable that you have access to 80 layer styles via a simple process of opening the ASL file from the zip file after download.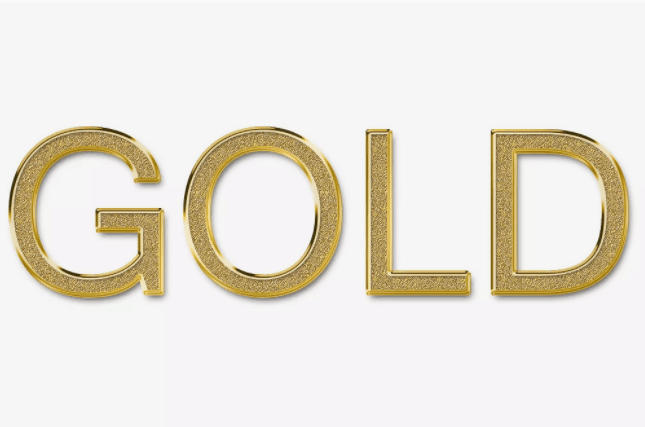 8 Photoshop Gold Layer Styles by DiZa-74 (DeviantArt)
This is another gold layer style that is considered as a great design asset. The gold styles showcased in this pack are of a darker shade and will work well for projects that require this particular look. The layer styles are noticeably flat and lack that 3D feel you might expect in layer styles. Regardless of this, the pack of 8 gold layer style will come in handy next time you are looking for some unique gold effects.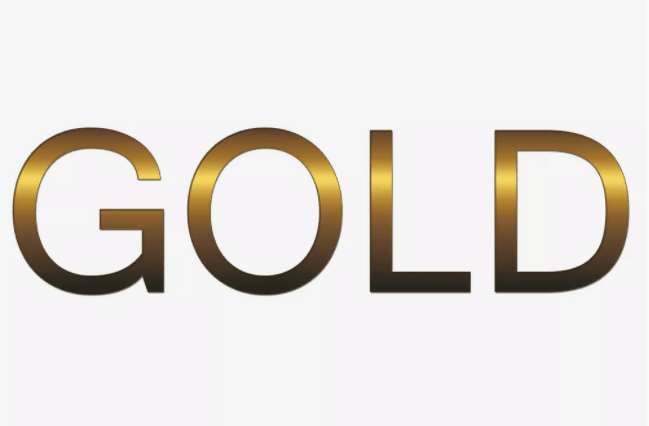 2 Gold Photoshop Layer Styles by mildak (DeviantArt)
Ever wanted a realistic gold effect on your text? Well, this gold layer style has the solution for you. This layer style also gives your text an additional gold plate effect on the outside edges. Go ahead download the zip file and extract the ASL file for this great looking gold layer style effect.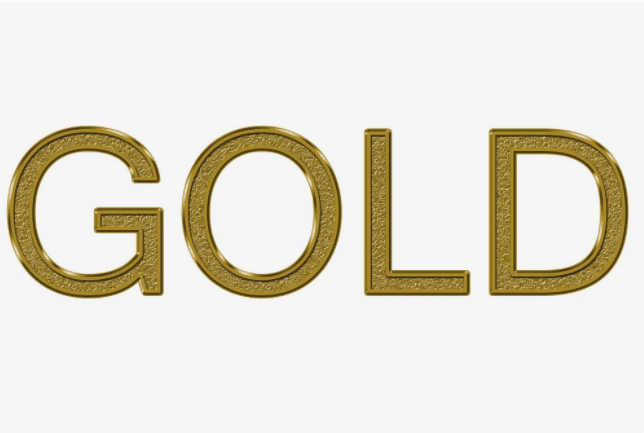 35 Photoshop Gold Layer Styles by Andrei-Oprinca (DeviantArt)
Variety is the plus side of this gold layer style. From the creator come a variety of 35 layer styles that offer an array of modern and traditional gold layer styles. As you go through the broad selection of styles you will notice the twist in some of the styles. The creator has included some interesting patterns such as worn out and faded effects. This gold layer style mixes it all for you, giving you the usual an the not so usual stuff to enjoy.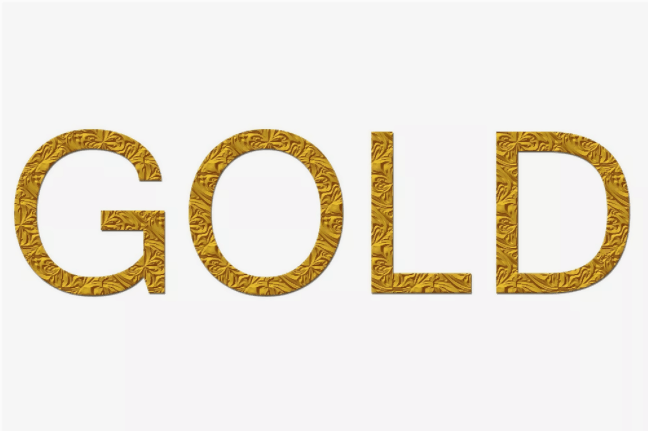 Free Gold Layer Style (4)
This is an exclusive gold layer style effect like no other out there. This layer style will give your text a gold effect that is truly outstanding. This effect is realistic in appearance and also included sparkles for that added realism. Ignore this layer style and you will miss out big time.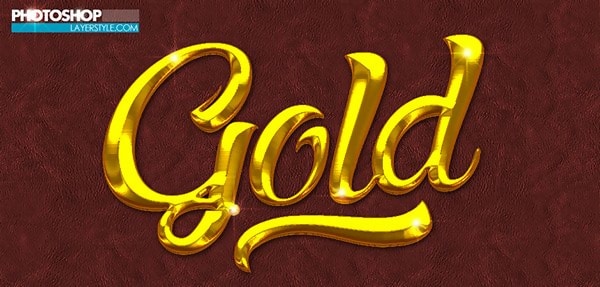 Free Photoshop Gold Layer Style
Simplify you design process with this gold layer style featuring the gold effect in Gothic style. Customizing this layer style can be done via the layer palette in Photoshop. Go ahead an add this gold layer style to your project effect repository. You never know when this gold effect will come in handy.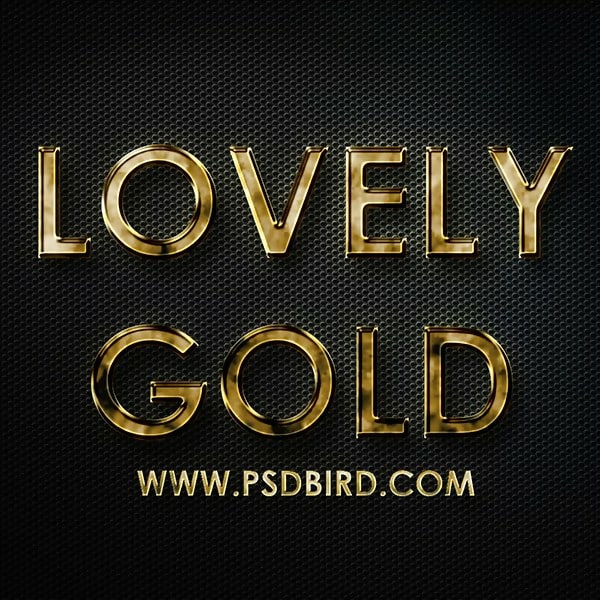 Free Gold Style 3
This is another choice gold layer style effect. Applying this effect on your text will give you a choice of either gold or platinum. The effects in this layer style are very impressive and result in a very realistic feel in your text. This layer style has 8 style options to choose from which further enhances your design options with each project.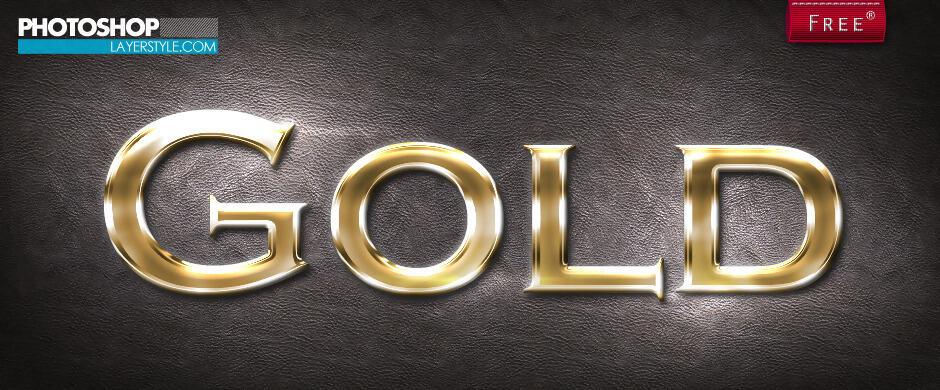 Gold Effect Photoshop
The gold effect never gets out of fashion in design projects. Gold text, gold logos, and gold effects are always relevant regardless of the season. Therefore, having this gold layer style at hand will be of benefit to all of your design processes. In addition to this, having this particular gold layer style will enable you to create gold typography, gold effects, gold alphabets, and gold text. All this you can do at your convenience and without any hassle at all.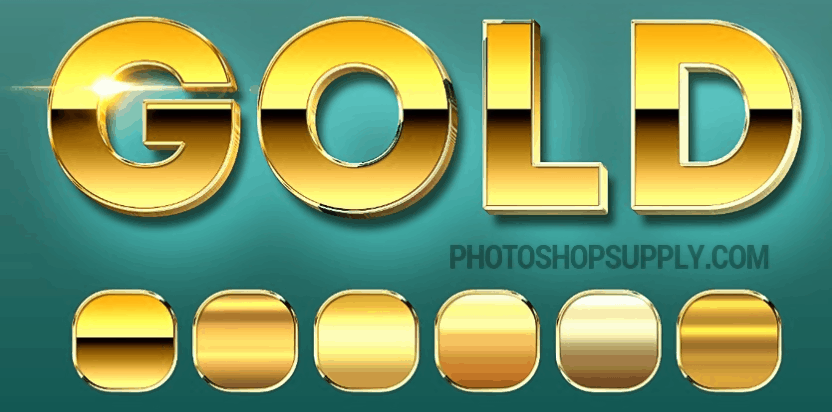 Elegant 3D Gold Text Effect PSD
Elegant typography is always a sight worth beholding in any design project. Creating elegant typography that has a gold effect on its is now easy and effortless. With the elegant 3D gold text effect layer style you can transform any text, image or vector shape giving it a striking elegant golden 3D appearance.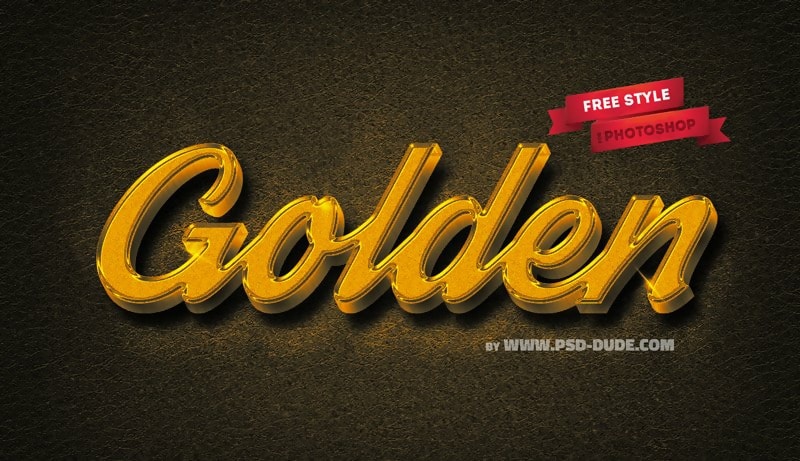 Gold Text Style PSD Mockup
Great looking text effect often give a design project an unforgettable touch. You can also have unforgettable design works courtesy of stunning golden text effects. This gold layer style will help you in customizing your text and deliver a stunning text effect that is bound to wow anyone interacting with your design work.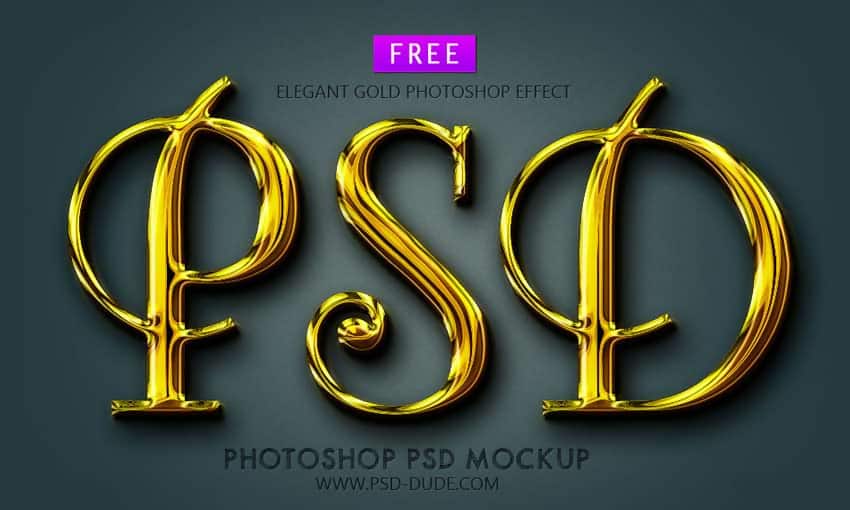 Photoshop Golden Free Layer Style
Some golden layer syles work best in certain projects and scenarios. This particular layer style is one of them. The golden effect showcased by this layer style is ideal for Christmas related projects. The effects that this layer style showcases resonate with a snowy Christmas feeling moreso when a red backdrop is used in the design. However, let this not limit your creative application of this cool gold layer style.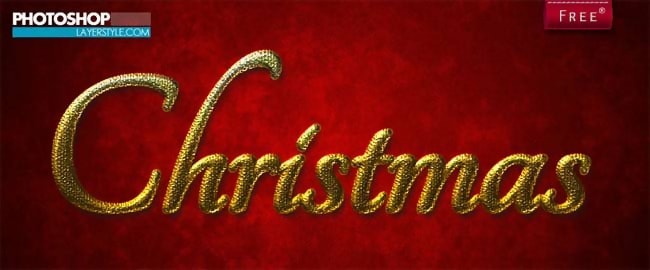 Gold Photoshop Layer Style (FREE)
A simplistic gold layer style that however delivers on beauty. You text, backgrounds and objects are bound to stand out when you apply this golden layer style on them. The ASL file will make your design life much more worthwhile once you download it and plug it in.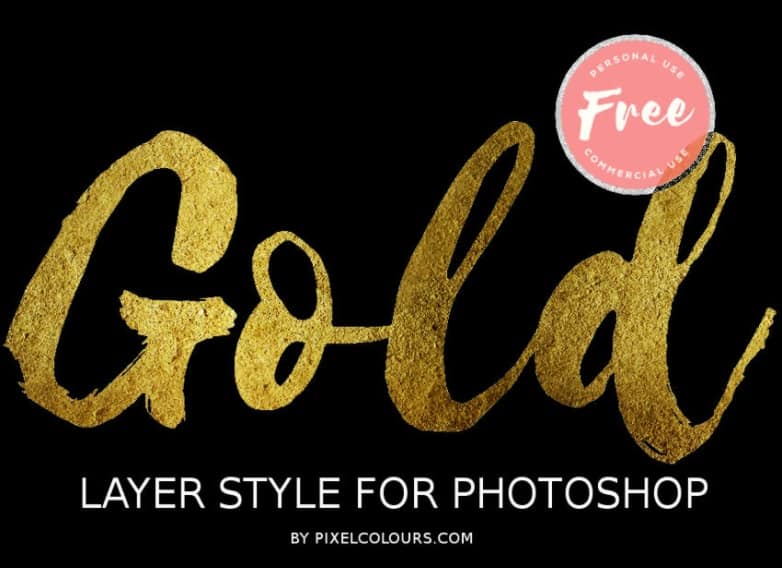 Metallic Photoshop Layer Styles
Gold is part of a group of precious metals that include silver as well. This layer style keeps this association intact and showcases the gold layer style along with additional silverish and metallic layer styles. The gold layer style and its other layers styles in this pack are trendy and modern looking. This present you with an edge and a sure way to keep your design project looking as top-notch as possible.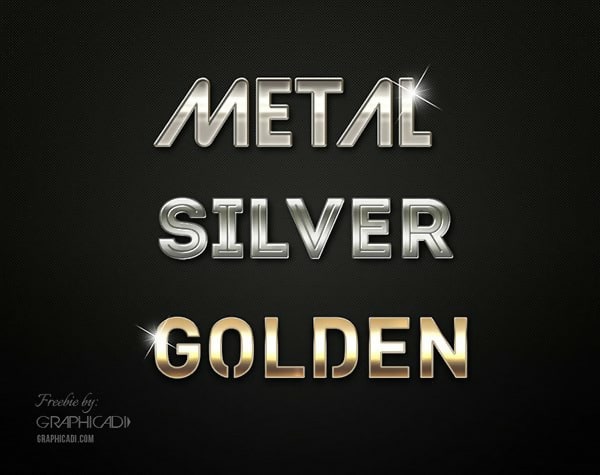 Gold Styles For Photoshop
This is another awesome set of gold layer styles that is sure to blow your design socks away. A total package of 80 modern gold layer styles awaits your design creativity. The layer styles featured here are well laid out to deliver a unique gold effect whenever and wherever you use them in your work.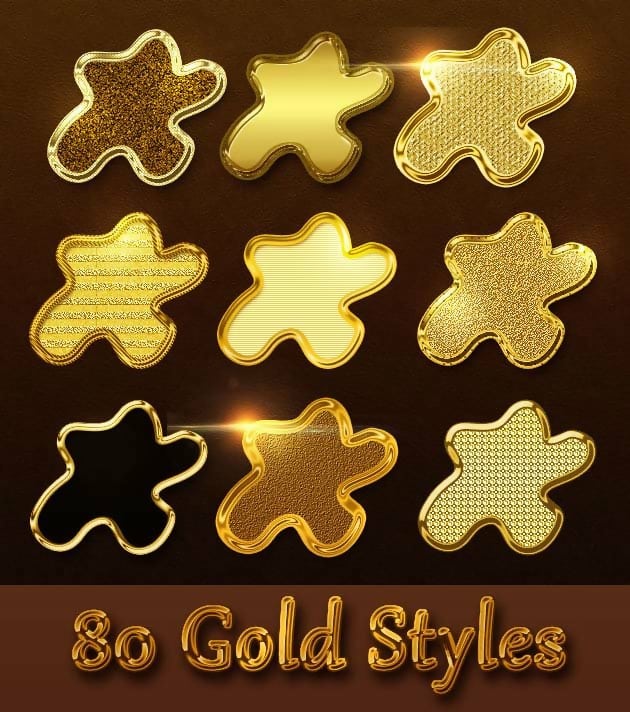 3D Gold Photoshop Style
The 3D gold layer style is unique in that it showcases three PSD files featuring the layer style in small, medium, and large sizes. The 3D feel that this layer style outputs is very realistic and gives you the impression of elements popping up from the surface in front of you.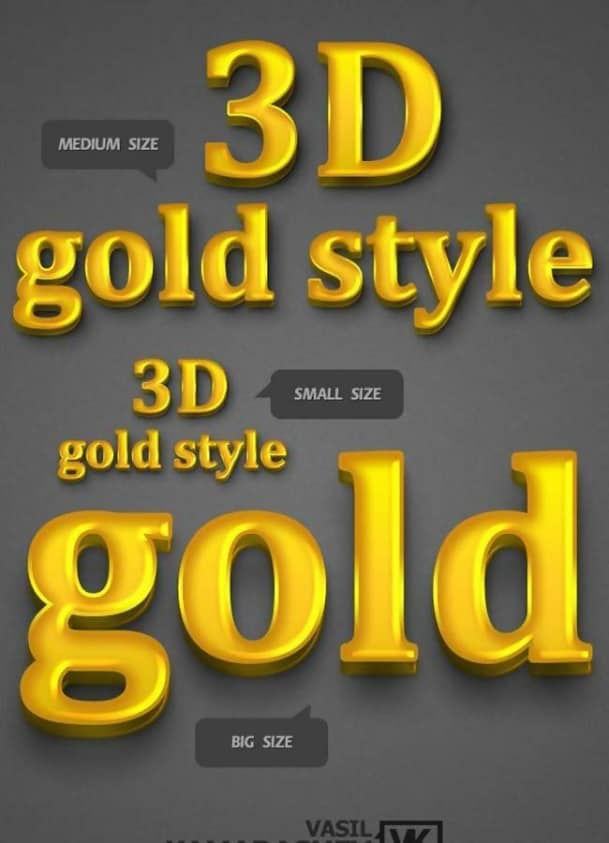 Conclusion
Putting together a catchy and memorable gold design effect is no longer a hair-pulling task. All the gold layer styles showcased here will give you that much-needed boost in design creativity. Furthermore, as you use them, a creative spark from them might ignite a whole new world of design ideas for you.
Why wait? Go ahead and give these gold layer styles a try today.