The consumer demands of this age have brought along with it the need for better marketing skills and resources. The old-age flyer has lived up and kept itself relevant throughout the years. Despite the burst of digital platforms and social media, the flyer has remained as a means to relay information in brief and as fast as possible. We all know time is of the essence in everything today.
Flyer design has always demanded strategic choices and decisions to be made by the creative team. Creatives will attest to the hours spent in painstaking flier design and layout. However, the backbreaking process and sweat involved can be easily sidestepped by using pre-designed flyer templates.
We have a passion for making things smooth and easy for all you creatives out there. For this reason, we have gone well out of our way to compile some of the 20+ best free flyer templates available. You will find them ideal for all manner of projects that may come your way.
Once again, all the flyer templates showcased here are absolutely free. Come on, dig in and enjoy!
Free Marketing Flyer – Real Estate Design PSD
For those real estate and property business design, this stylish and upmarket design will match up to your needs. Fire up photoshop and edit this PSD template as you wish and deliver incredible, professional designs.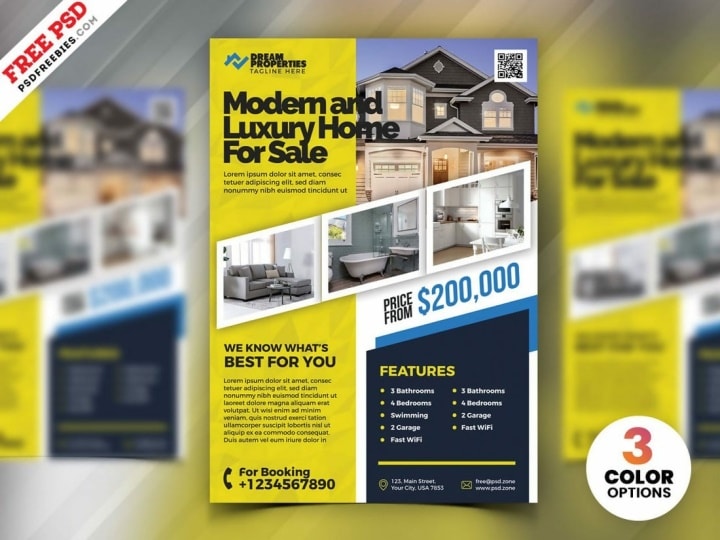 Free Property and Real Estate Flyer Template PSD
In need of a means to highlight or promote an apartment or property? This template is a perfect fit for flyers or posters. The PSD file is fully customizable and is high in resolution.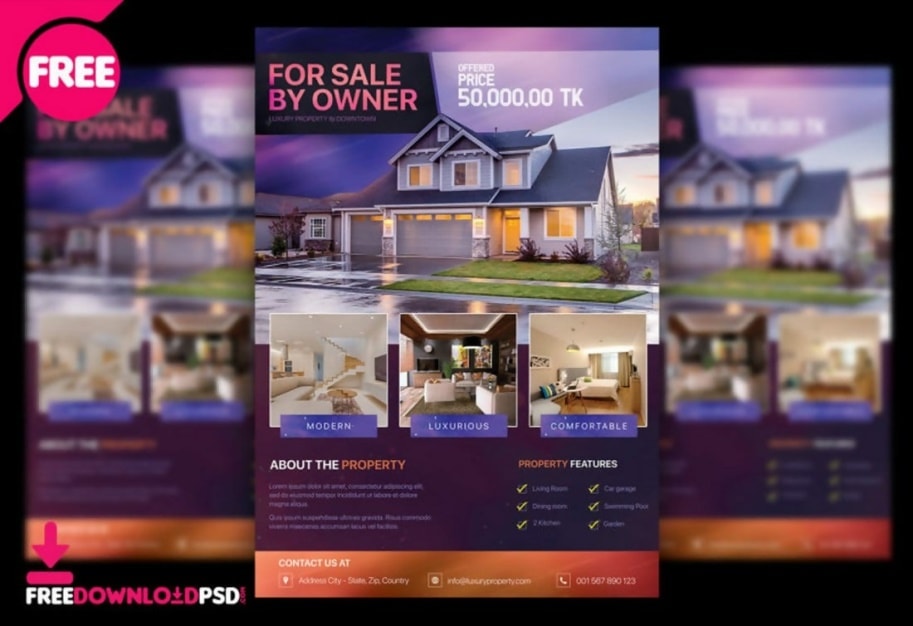 Conference – Business Themed Flyer Template
This business-themed flyer template comes in EPS vector format for easy customization and editing. Your audiences will be wowed and drawn to the cleanliness and professionalism this template will give to your project.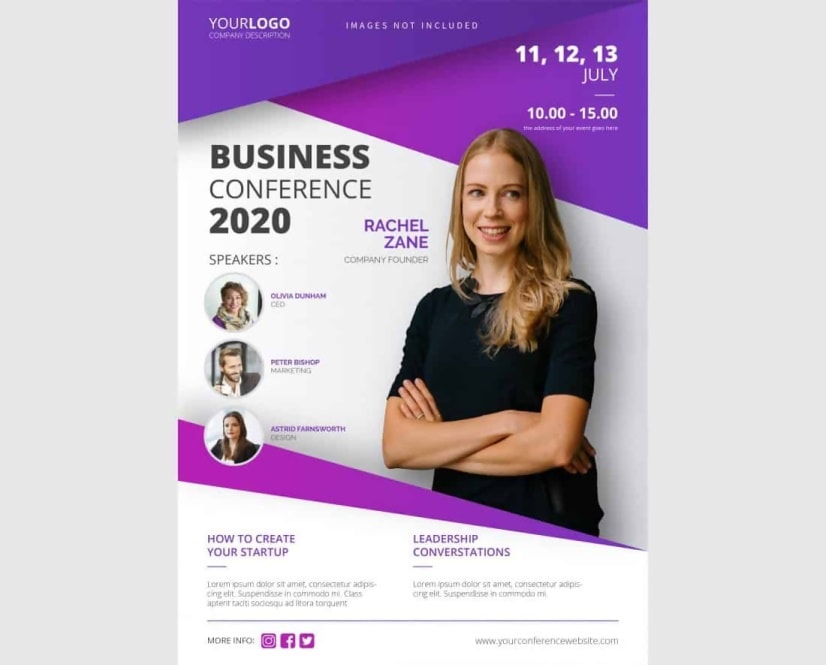 Free AI and PSD Business Flyer Templates
Three flyer templates are bundled here. The creatively laid out content of these templates is well suited to small enterprises and corporate businesses. The templates come in both AI and PSD formats that are fully editable.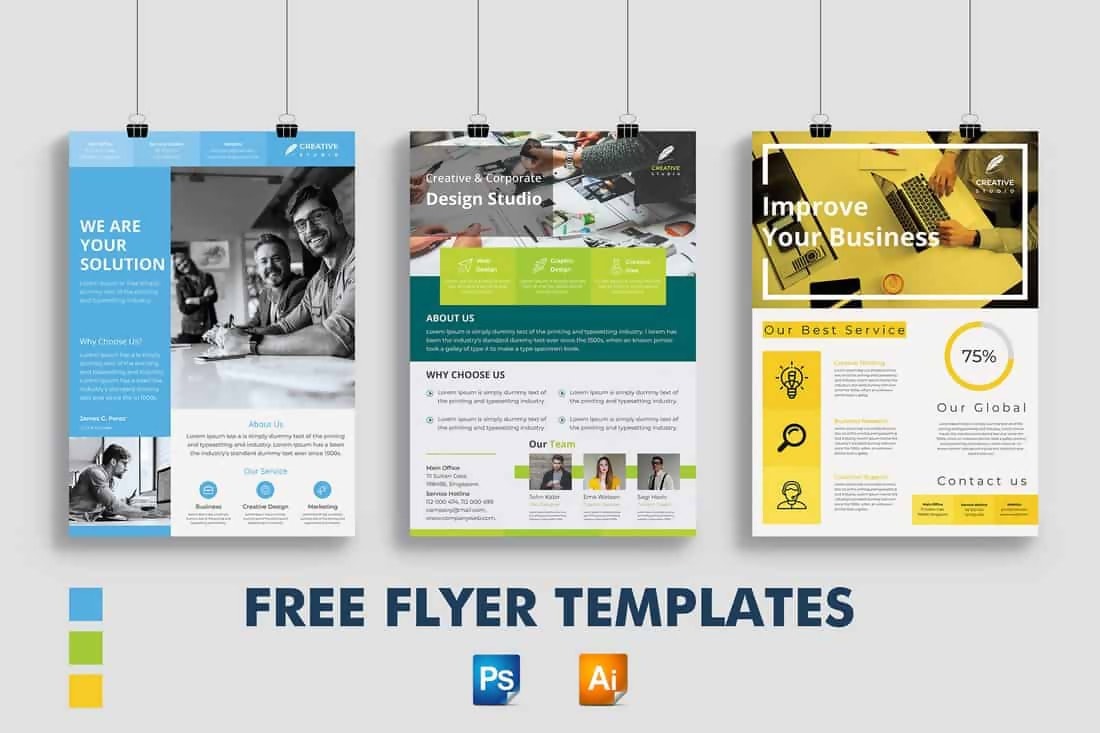 Free Black Friday Flyer – Sale Template
Black Friday is synonymous with plenty of promotions and sales packages from retailers and store merchants. The Black Friday flyer template will package any Black Friday sales promo you may have. Available in PSD format this template is easy to edit and use.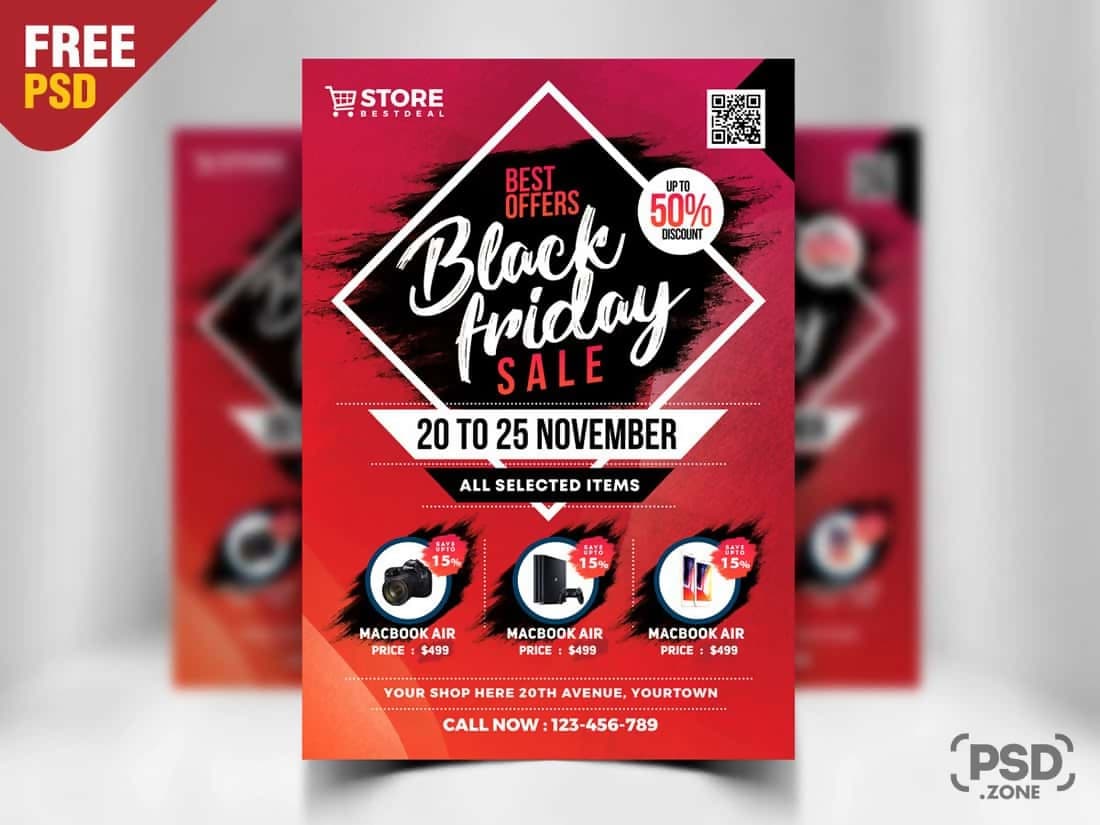 PSD Flyer Gym and Fitness Theme Template
As an owner of a gym or fitness establishment, this flyer template is bound to deliver on any visibility and marketing needs. The professional design and layout will effectively bolster and boost all promotion and special offers the business wishes to market.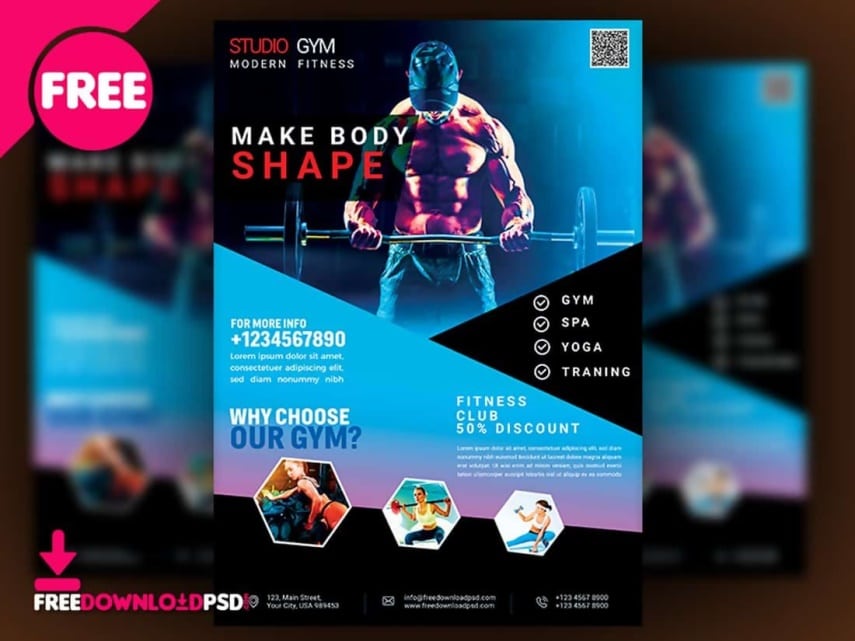 Vintage Flyer Template
A dash of vintage always has a place in modern flyer design. This is why this free flyer template makes the cut. The vintage style featured in this template is 100% editable via Photoshop. Easily tweak the layout to match all your promotional needs.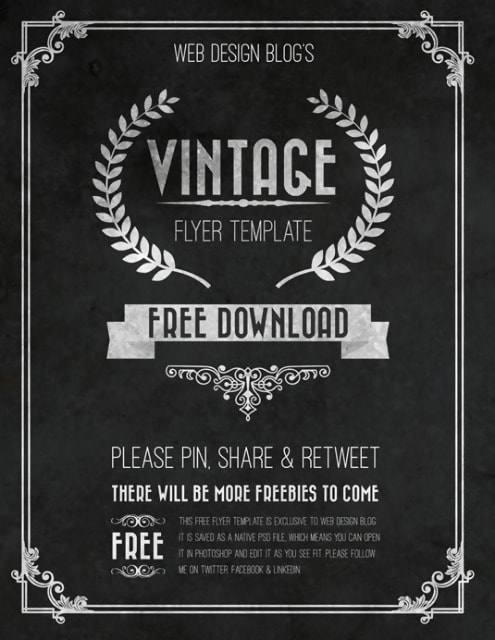 Free Flyer Template – Super Sale Theme
When a multipurpose flier is what you need then this super sale themed template is bound to meet all your needs. This flyer template is available for print as a fully editable PSD file. The smart object will help you quickly layout your preferred design hassle-free.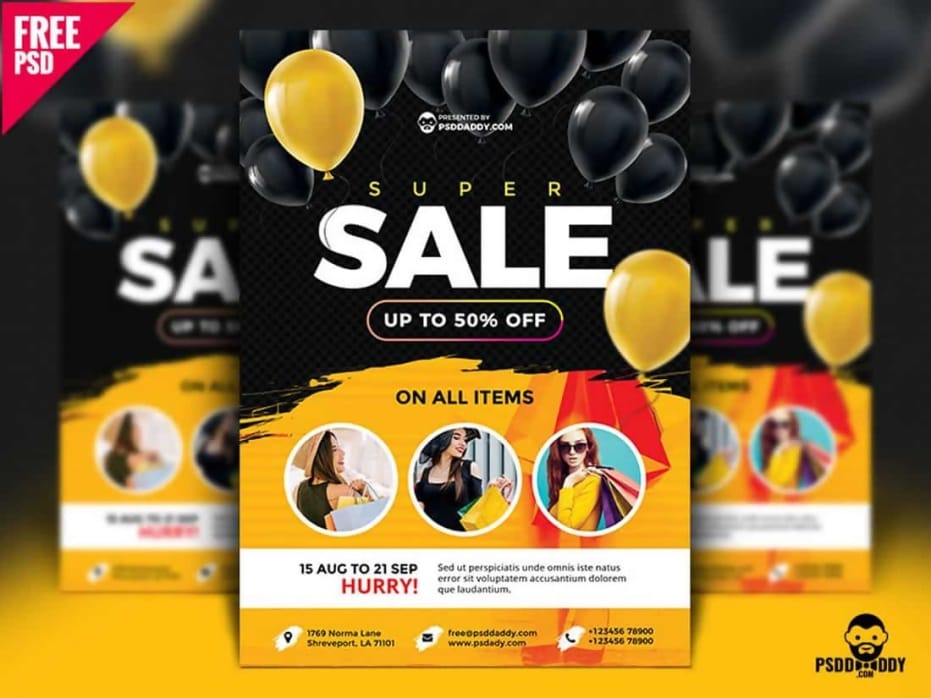 Free Fashion Sale Flyer Templates
Fashion and apparel brand marketing here we go. This template features three bright and colorful template designs that are well suited to promote any special sales and discount offers. The templates come in EPS and are easily editable via Illustrator.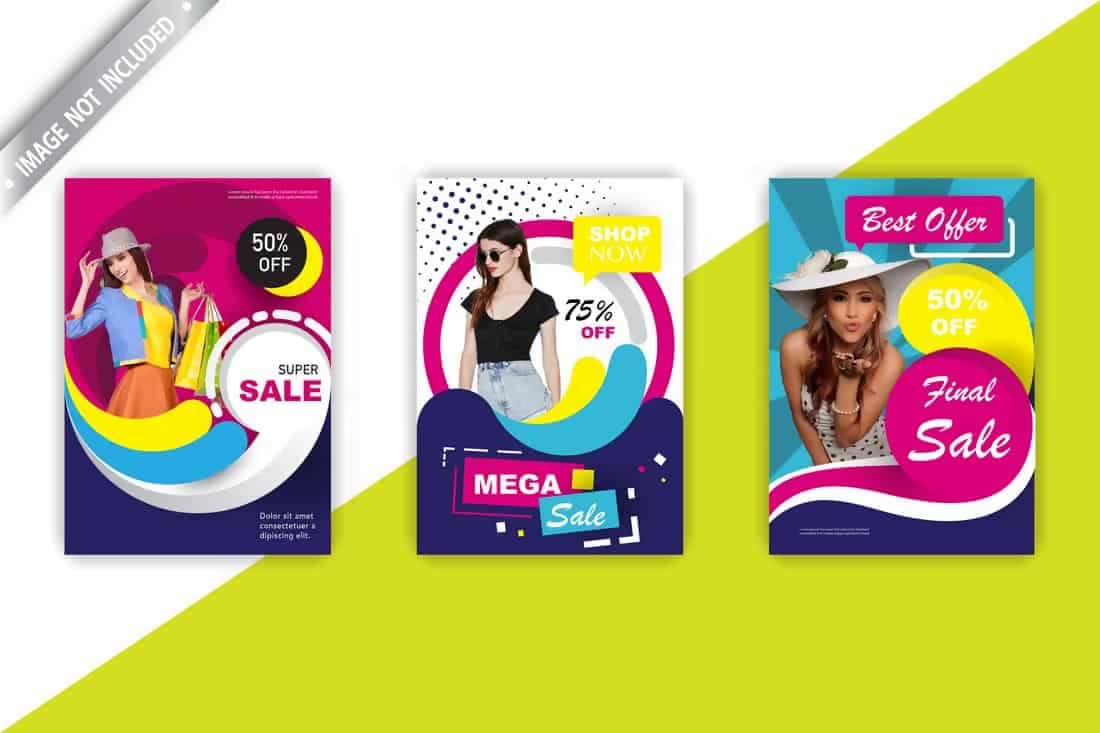 Product Sale Free Flyer Template
For a business with multiple products to promote, this flyer template represents an ideal marketing selection. Showcase your product and see your brand promos and offers result in raking in the clientele you so desire.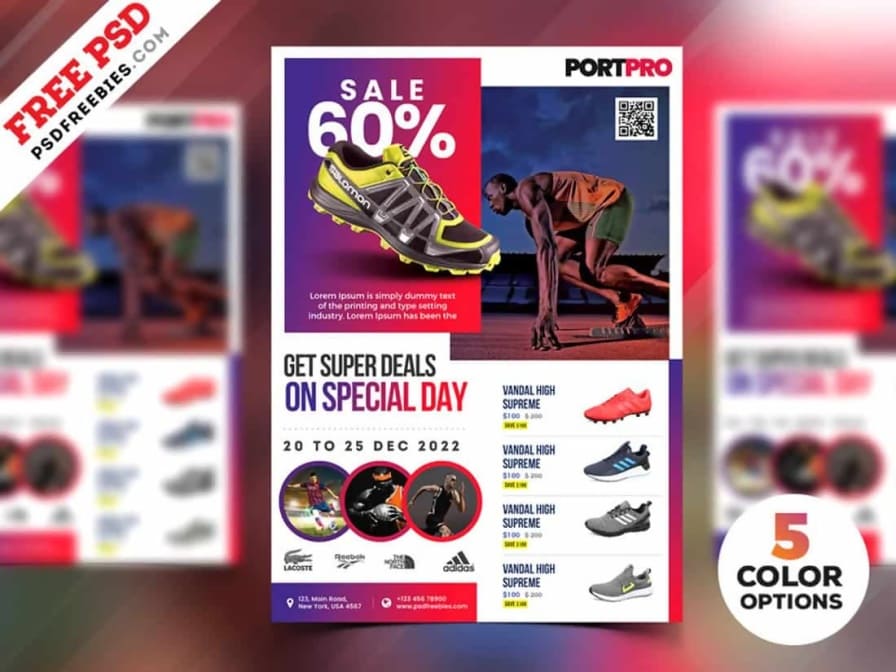 Business Promo PSD Flyer Template
Professional and well laid out, this flyer template will showcase and present your business perfectly. Promote your services and products with confidence at any event or meet up. This PSD flyer template is up there in terms of presentation and layout.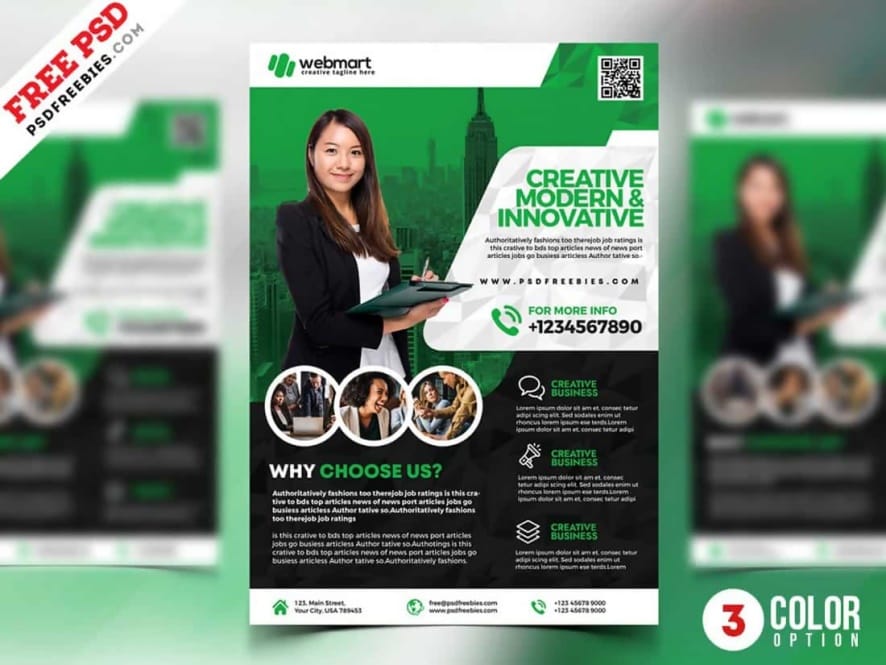 Flyer Template Food & Festival Theme
Having a barbeque or house party? Have no worries, this stylishly and thematically designed flyer template is the one for you. Coming in print-ready format this template is completely customizable and user-friendly. Arm your self with Photoshop and customize this flyer template as you please.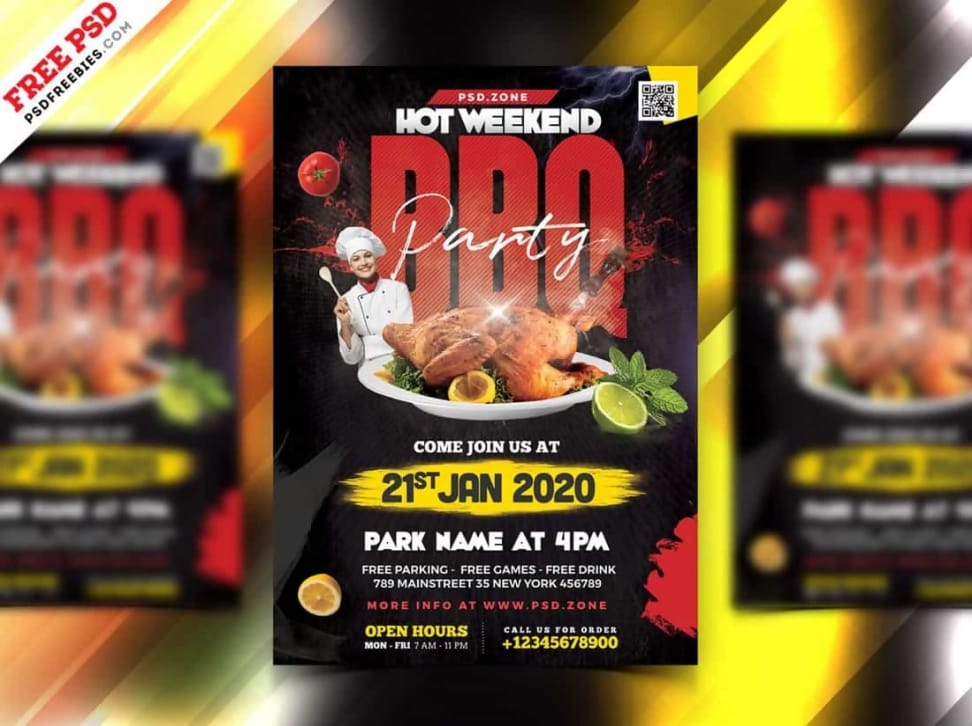 Restaurant & Food Flyer PSD Template
This is yet another food-related flyer template that packs the design and promotional punch. Food trucks and restaurants are well placed to use this template. The fully editable template features an upmarket design with relevant imagery and text.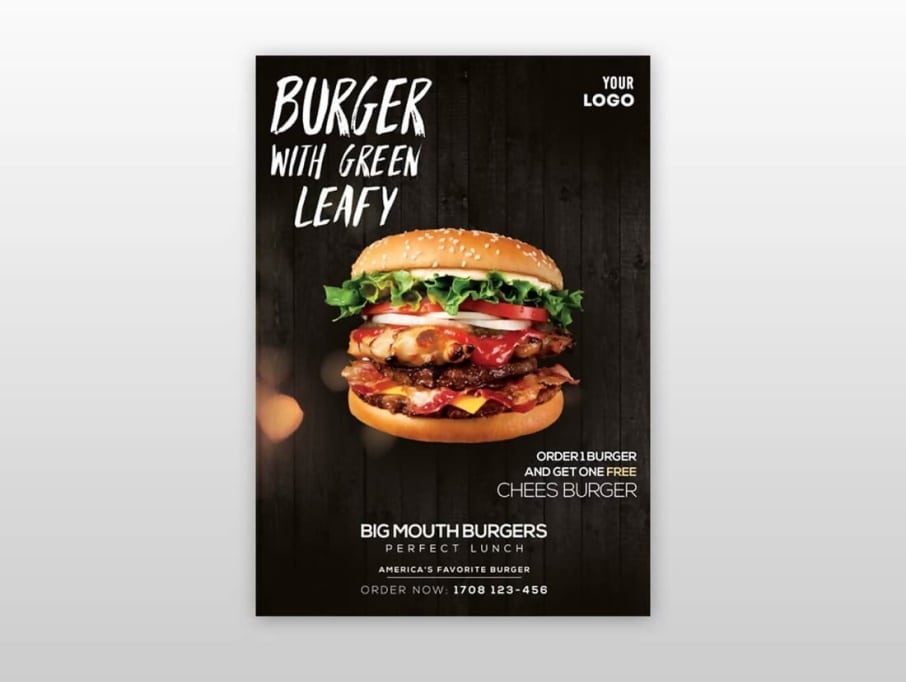 Free Flyer Template PSD – Electro Sound Theme
This flyer template presents a minimalistic style in design and layout. It works well for promoting parties, DJ's or music events. Customization of this PSD template is a walk in the park and it features royalty-free stock imagery and fonts.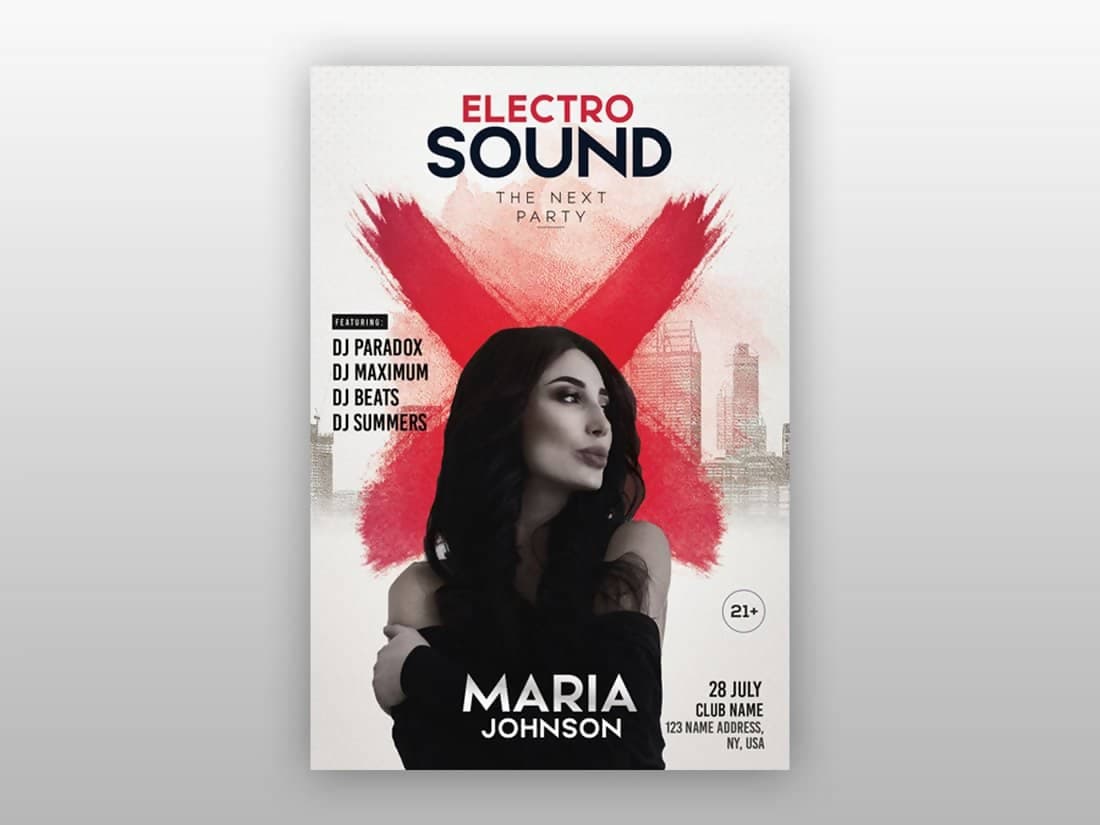 Free Business Flyer Template – Corporate Style
This template is your ideal selection of a design asset in designing a flyer that exudes elegance alongside professionalism. The template features a front and back layout that is ideal for placing of information. Corporations and agencies will love how this template works well for them.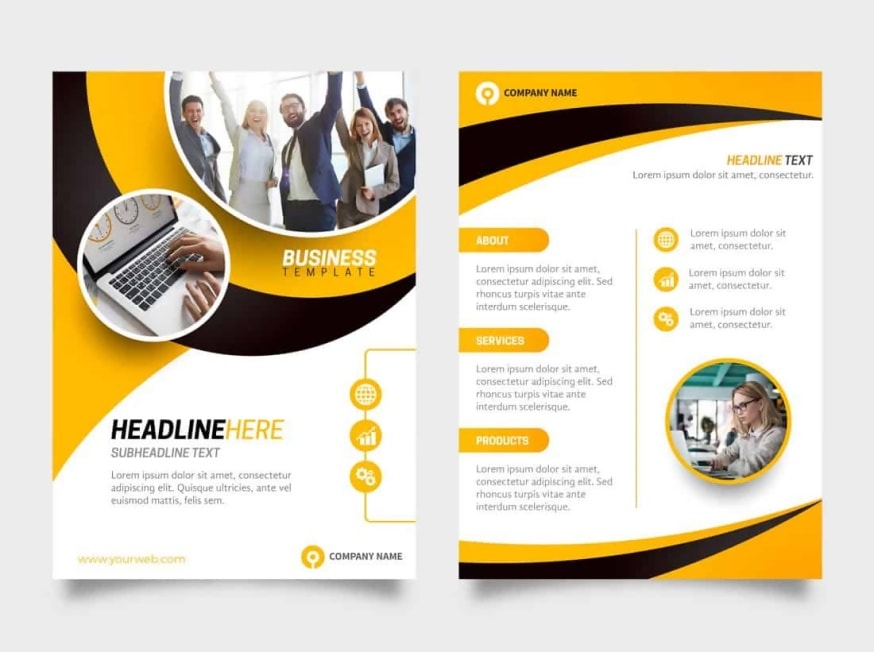 Modern Fitness Flyer Template
Three templates are showcased here in this flyer template giving you a variety of options to work with and present. You have a choice of either fitness center, gym or yoga themes to work with. The fully customizable template allows you to change colors and text to suit your promotion preferences.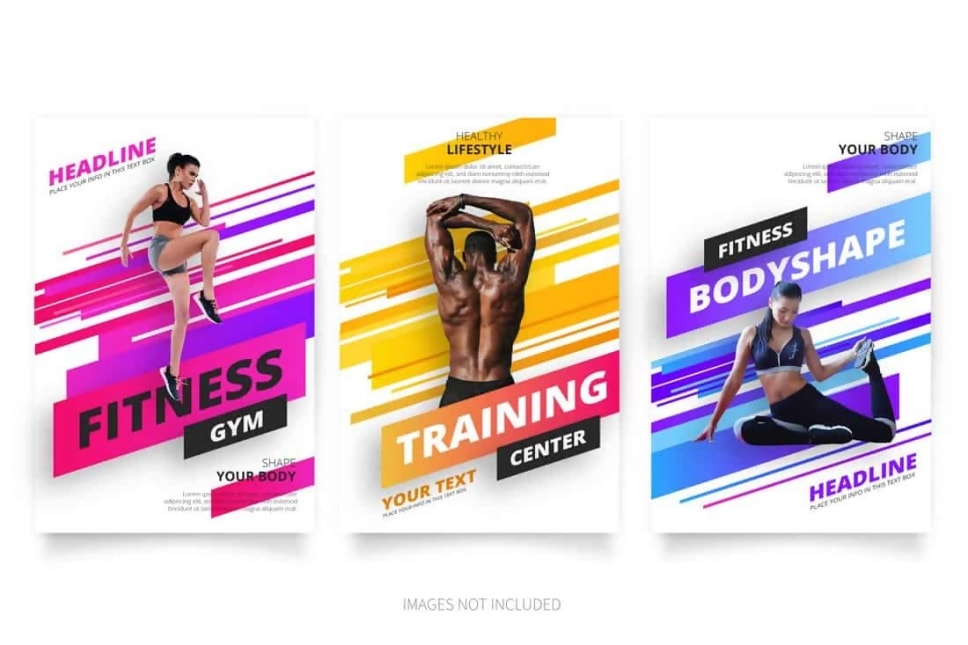 Flyer Template PSD Corporate Marketing Theme
Corporate Sales and marketing departments will love this marketing flyer template. This template is well suited to the promotion of conferences and seminars. The template is in PSD format, fully layered and customizable.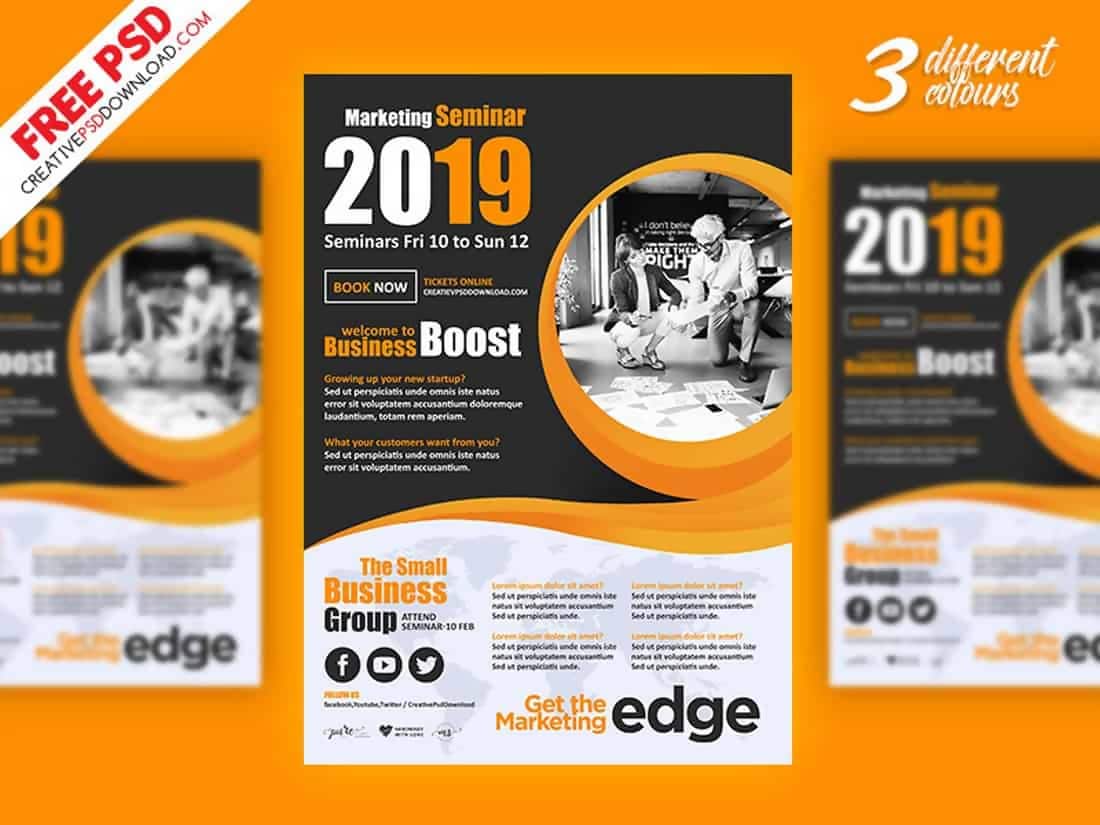 Free Flyer Design PSD – Modern Real Estate Theme
Market your real estate firm with style using this modern flyer template. This flyer template has been specifically crafted towards real estate and property marketing or promotions. Play around with the colors imagery and text to bring your real estate promotion to life.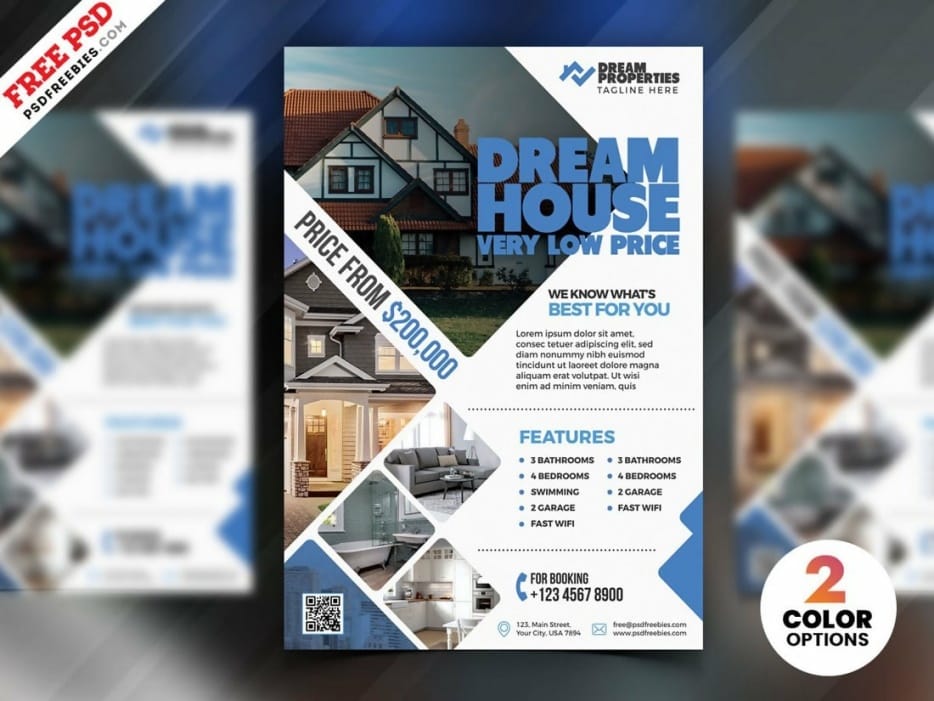 Neon Party Flyer Night PSD Template
Clubs, parties, DJ's and outdoor music events are well placed to use this flyer template to promote themselves. The retro theme and neon design add a dash of creativity to this template. The flyer template is a fully editable PSD file.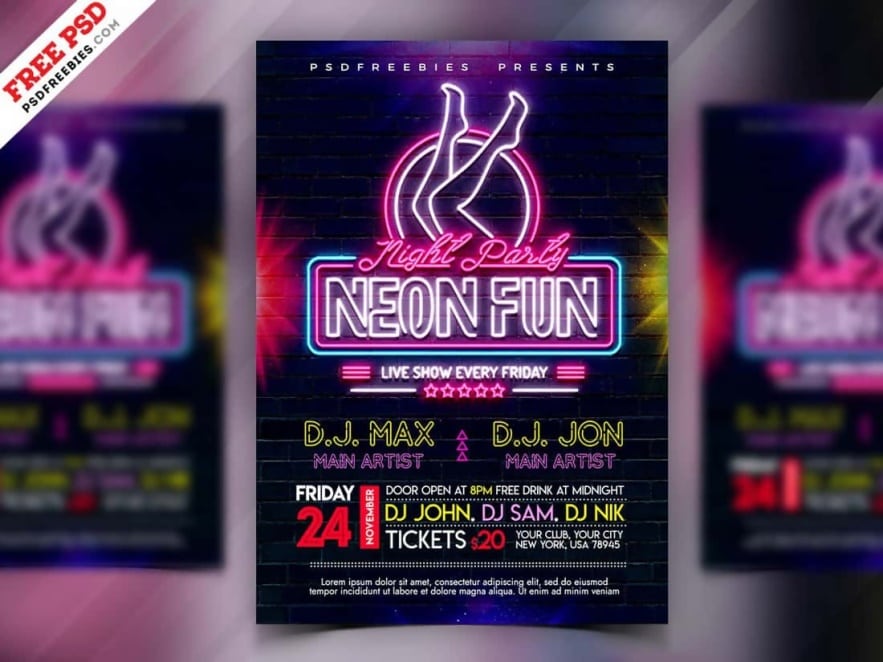 Free Flyer Template PSD – Church Sermon Theme
This list would be complete without a flyer template that is suited for the church. The Church Sermon flyer template is your best choice when designing for special church promotions. Those special sermons or fellowship events will be well presented via this template. The template also has an additional Facebook cover design to complement the event showcased on the flyer design.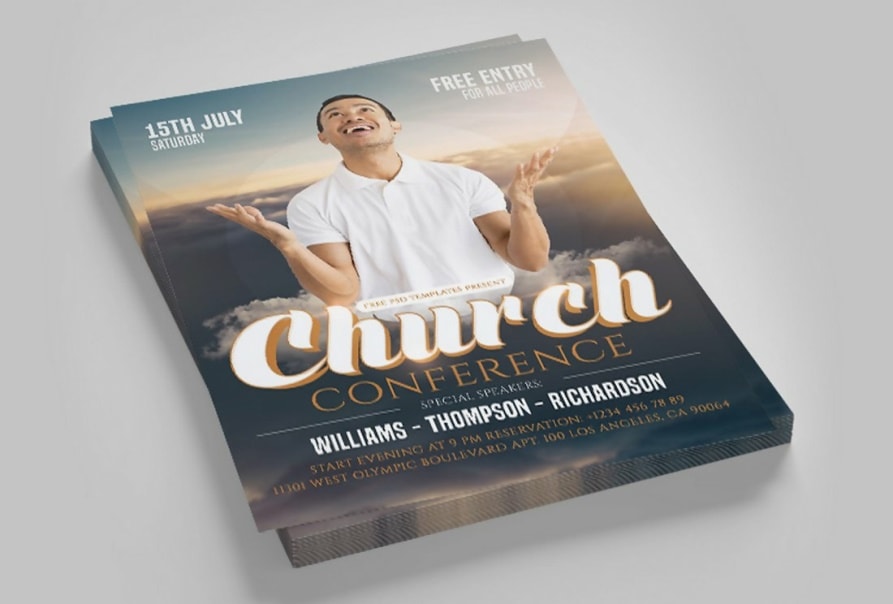 PSD Party Flyer Template – Music Night Theme
Promoting parties and club events is now much easier. This flyer template has the right theme and vibe for any night music event. The template comes as a customizable print-ready PSD file.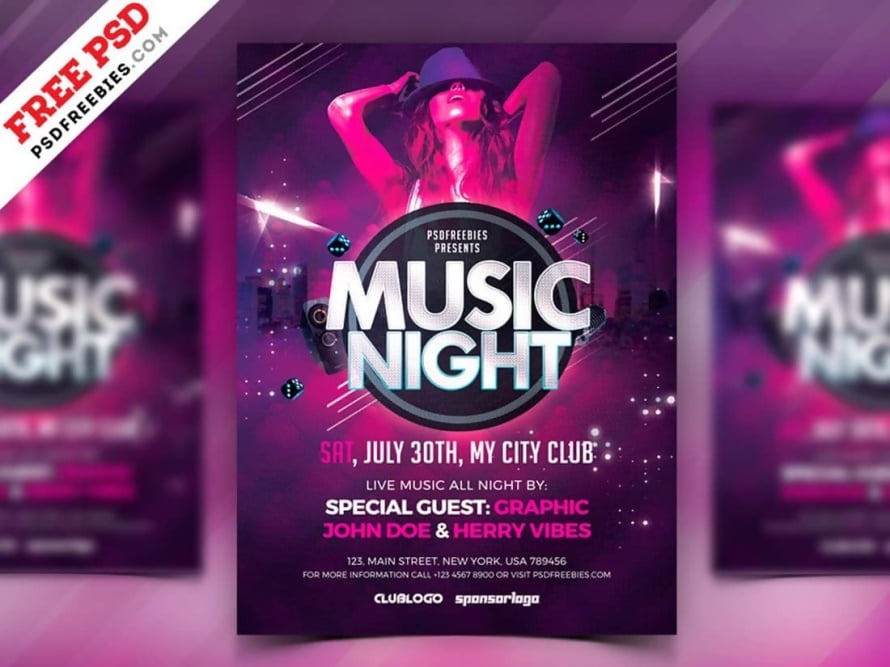 Free PSD Flyer – Christmas Event Theme Template
Finally, on a Christmas note. When the jingle bell tunes start playing look no further than this Christmas themed flyer template. Designed for promoting that beautiful Christmas party you are planning this flyer template will do the job completely. This PSD flyer template has a multipurpose design and is easy to use.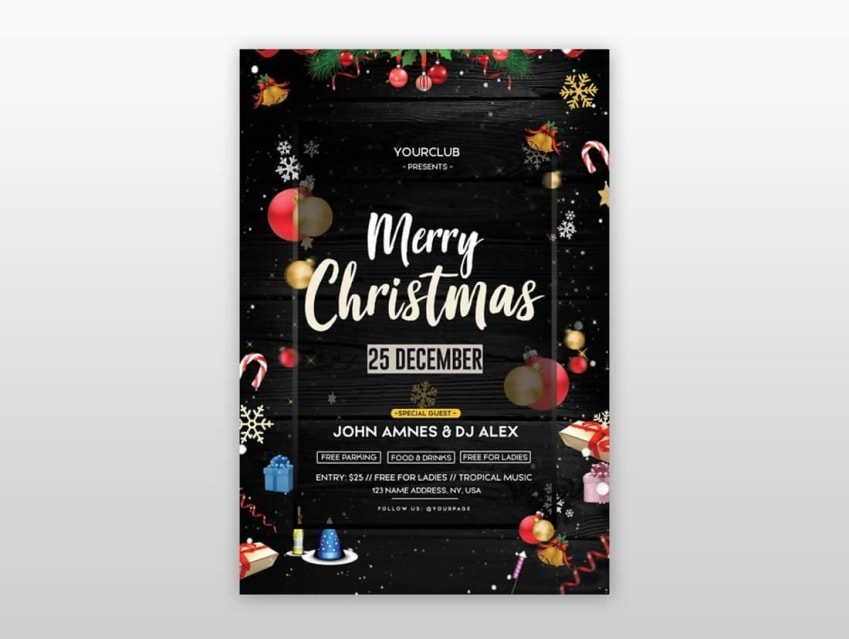 In conclusion
You are now ready to design and put together and eyepopping flyer. With the 20+ best free flyer templates showcased above, you will not be short of design options for a long time coming.