Having a professionally laid out resume is a must today. In a world that considers first-time impressions a creative resume is one way of obtaining a level up in your career.
When tasked with putting together a striking CV you quickly realize how great of a challenge it is. You are left at your wits end wondering how to;
layout your array of qualifications
professionally showcase your best traits
package your skills to reflect on how a suitable fit you are
Competition is cut throat and your resume has to stand out. Capture your potential employer through style and impression. Putting together a resume is no longer a typing affair. Think creativity, think art, think impact, and think about direct communication and you are on the right track. The way to go is tailoring a resume that will resonate with the employing company.
Always take the necessary measures to avoid making mistakes in preparing your resume. Go the extra step and do some fact-finding on the potential employer. This places you in a better position of presenting a convincing resume.
Free Beautiful Resume Templates
It is here that resume templates PSD come in. Your search for a quick way to upgrade your resume ends here. We have compiled a collection of some of the best resume templates PSD for you. These resume templates PSD will go a long way in helping you create awesome cover letters and portfolio pages.
These resume templates are easily customizable, flexible and applicable in any situation. We assure you that these resume templates PSD will take your resume a notch higher.
Free Designer Resume Templates
This template features a sidebar where you place your top skills. The main section is intended for related work experience. Use this template to creatively showcase how great a candidate you are.
.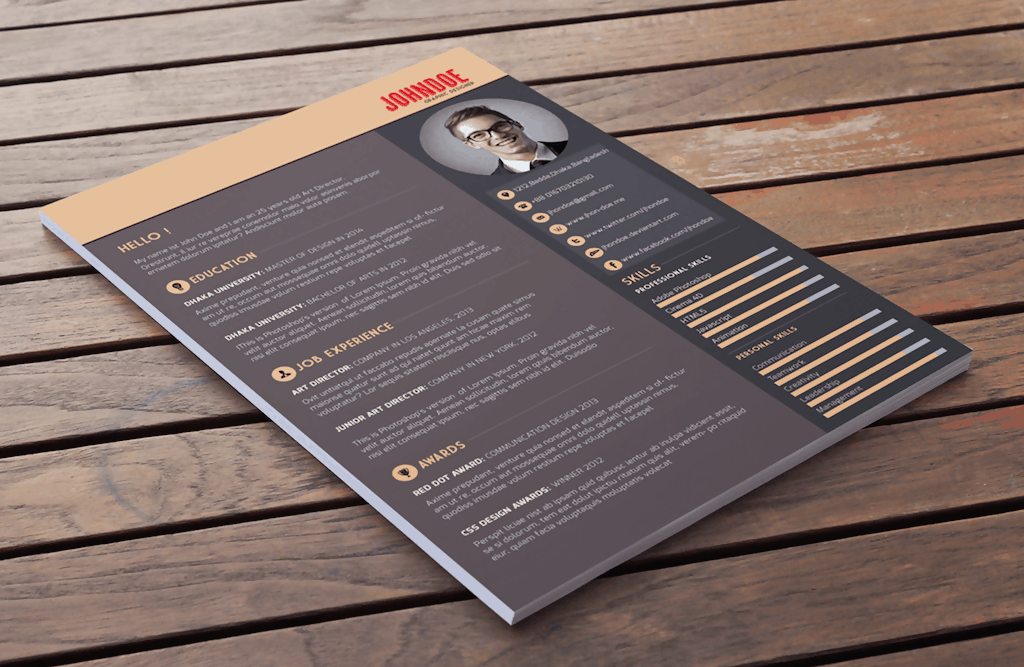 Free Stylish Resume Templates
Ever thought of having a resume that spans four pages? Well, this resume template PSD gives you this option. You must be wondering how you would do it. Put your resume on the first page, lay out your cover letter on the second, and have your references appear on the third. On the fourth-page showcase items from your portfolio. In a simple but highly effective way, you will have presented all important aspects of your application.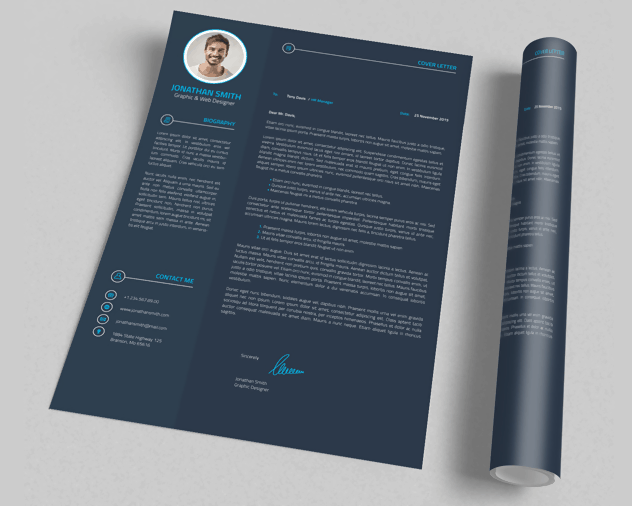 Web Designer Resume Template Plus Cover Letter
This resume strikes you with its modern color choice and layout. An exceptional feature is a sidebar on the left. Here you can showcase your skills, professional information, contact details and not forgetting your awesome photograph. The rest of the pages can contain your cover letter and portfolio or any additional info of yourself.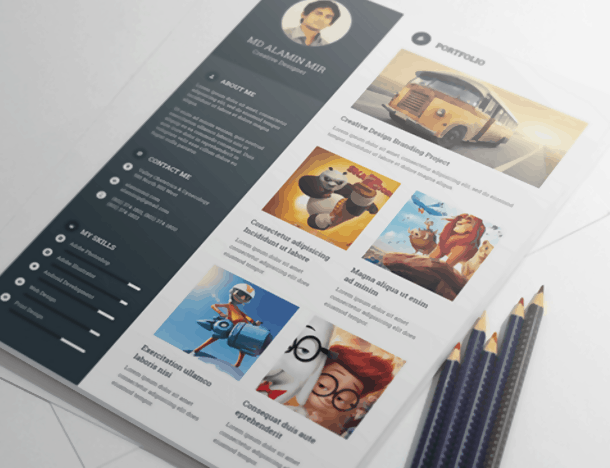 Editable Color Resume Template
Coming in four different color options this resume template PSD has a website look to it. This template falls in the minimalist category of things. The layout will help you do plenty in presenting yourself. You have the options of highlighting your education, technical skills, or any other information that will give you some mileage. This resume template PSD will work well for the freelance folks out there.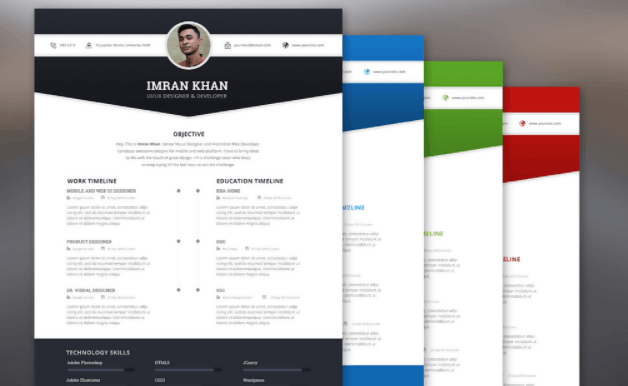 Material Design Resume, CV, and Portfolio
The team at Material Design has gone a long way with this one. This resume template PSD is a well transitioned and transformed example. It is a creative coming together of web element, web standards, and Photoshop.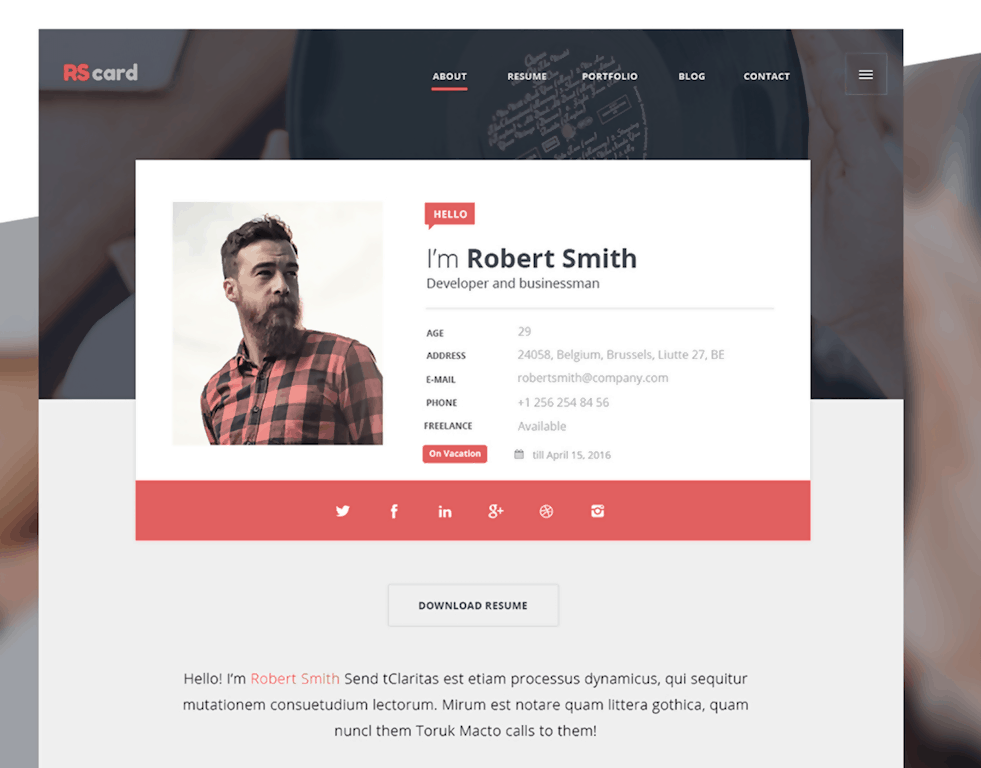 Minimalistic and Clean Resume
This resume template PSD will take your experimentation beyond its borders. Featuring a smart object optimized header a nice contrast is created between the header and main resume. Only your imagination will limit you while taking full advantage of this resume template PSD.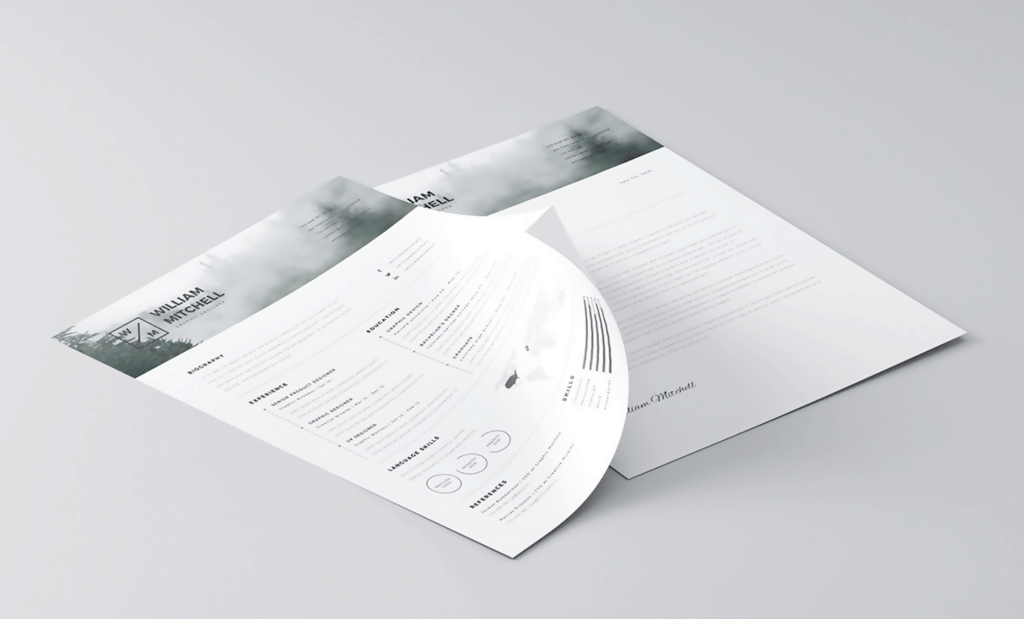 Resume, Letter, and Portfolio Template
This is one powerful resume template PSD that packs a retro look and makes it look cool. Nothing about this template is wrong. The PSD package comes 100% customizable. Its three parts are meant for you to tailor to suit your preference. It has a section for profile information, another for the cover letter and finally a portfolio section. Your portfolio will fit in well with the prebuilt layouts that come built in the template.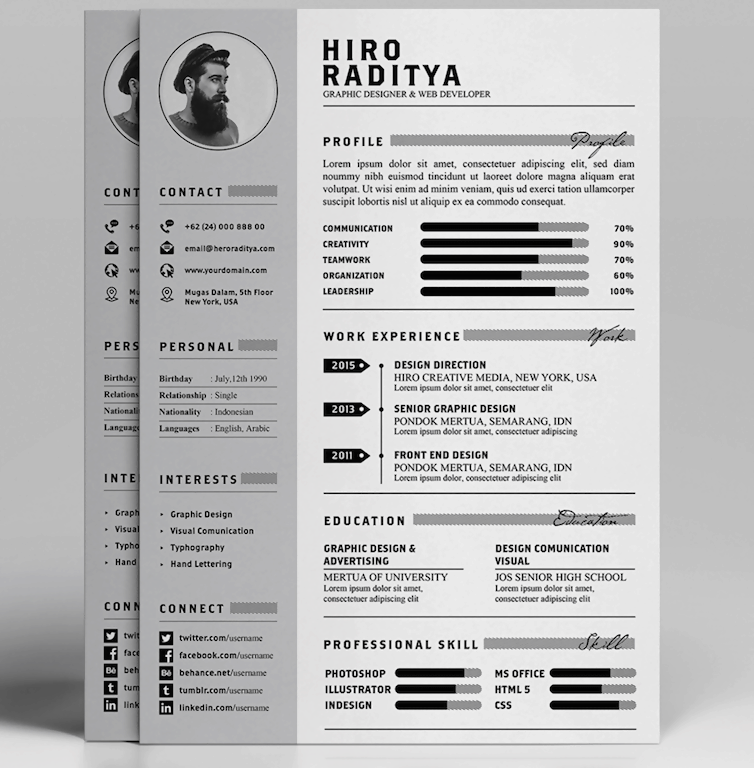 Adobe Photoshop Resume Template
This clean resume template PSD should be getting more accolades. While focusing on internal fonts the creative flow of the resume is enhanced. The resume has three different colors shaded to choose from. For the blogging, writing and social media experts this one is sure to be a hit among them.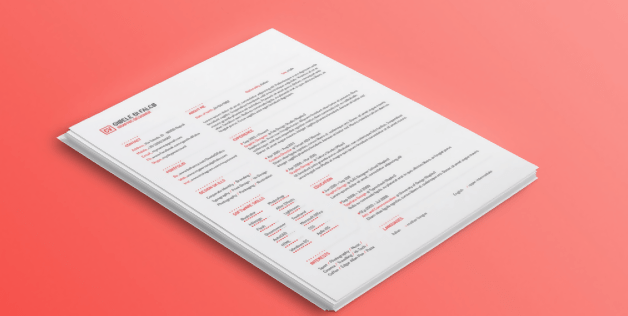 Ultra Minimal CV Templates
This highly minimal resume template uses the power of text. It presents you with plenty of space to put your passions and interests. The creator also thought of allocating some space for your photo and a bit of personal info. Another plus is the editable background color. Switch to one that meets your preference. This resume template PSD has a band of followers who attest to it. Just look at the Behance comments.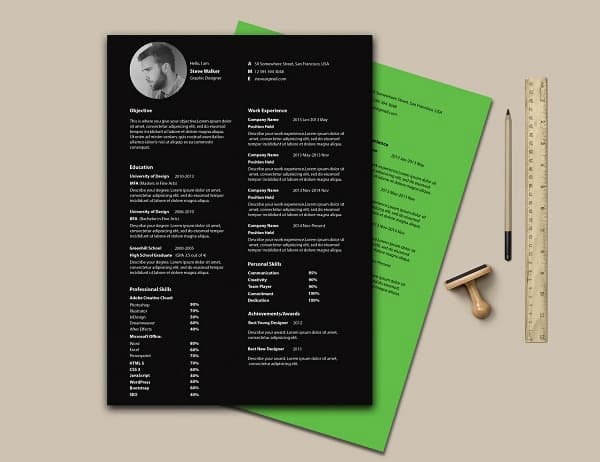 Adobe Resume Template
Uniqueness is here to be taken advantage of people. Emphasizing on the use of text and color is what this minimalist template is all about. This resume template will showcase your skills, abilities, and knowledge in a way that exudes unique creativity.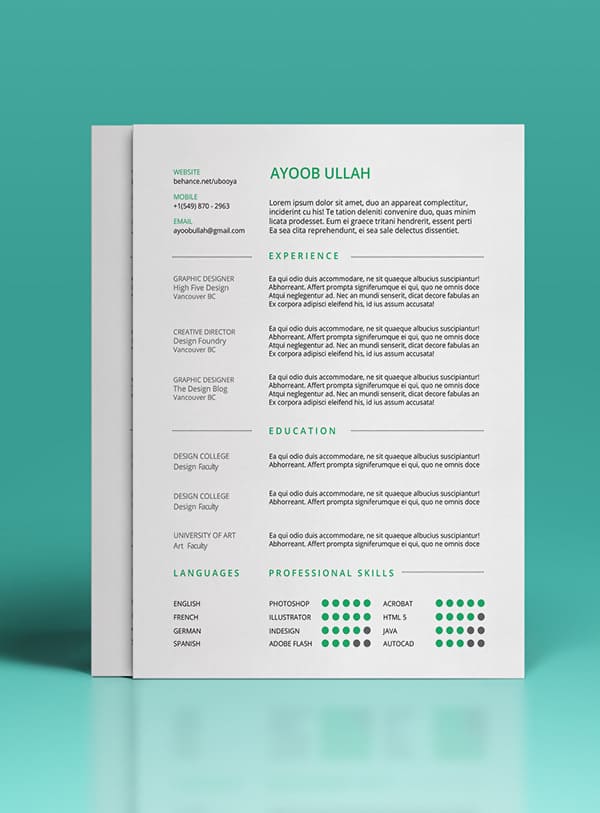 3-Page Resume Template
When you wish to showcase yourself fully one page may not be enough. Where you see yourself in the company's future and other aspirations have to be put somewhere. This three-page resume template PSD offers you what you need. Use the first page to put together all your skillsets, and availability. On the second page go more into yourself. Your education and experience can come here. The third page can be a platform for a project preview. You may put something special that you intend to do in the event you get hired by the employer.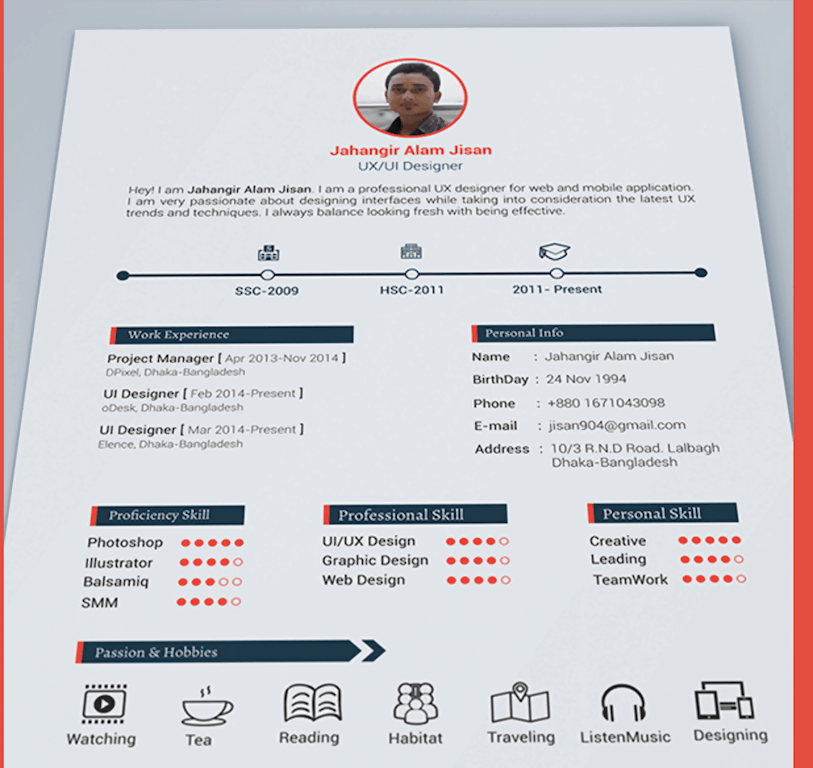 Professional Resume and Cover Letter
Professionalism can't be wished away when presenting you to potential employers. This resume template is here to ensure you leave a mark. Present your professional expertise, and how it will help you put the company at another level. Top this up with some cover letter flavor. Use the space available at the back of the resume to get you closer to that sweet job offer.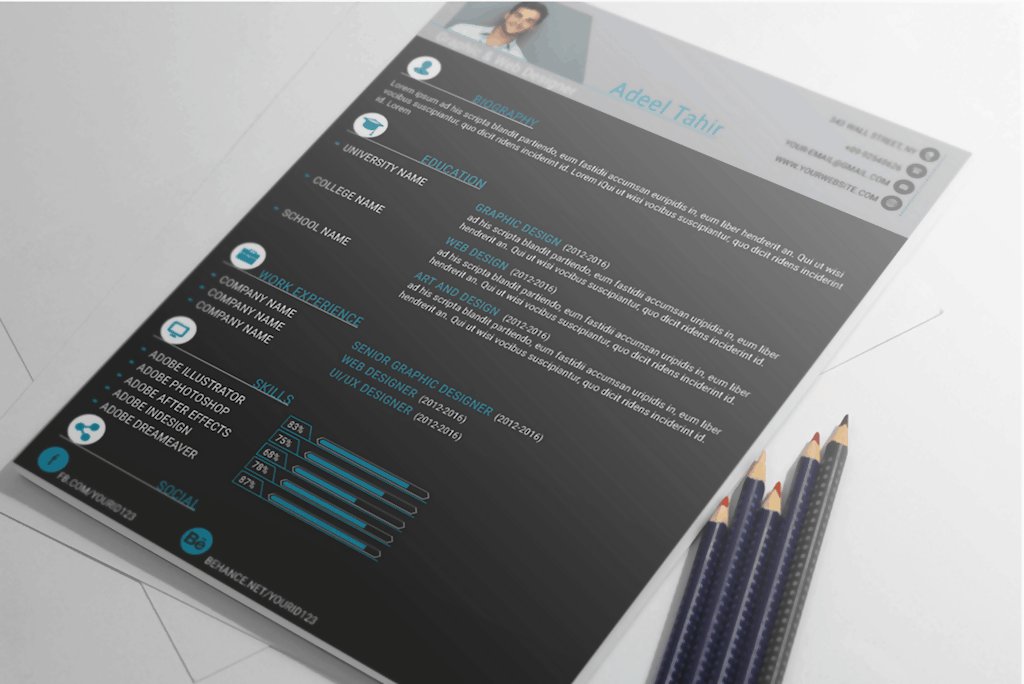 Job Doing Resume in Photoshop
Just one look at this resume template is enough. You are taken in by its clean layout. With it, you will clearly present work experience, education level, skills, and hobbies. It ensures all the info you put into it flows and appeals. Utilize the space available for your personal statement. All this while keeping it all at minimal.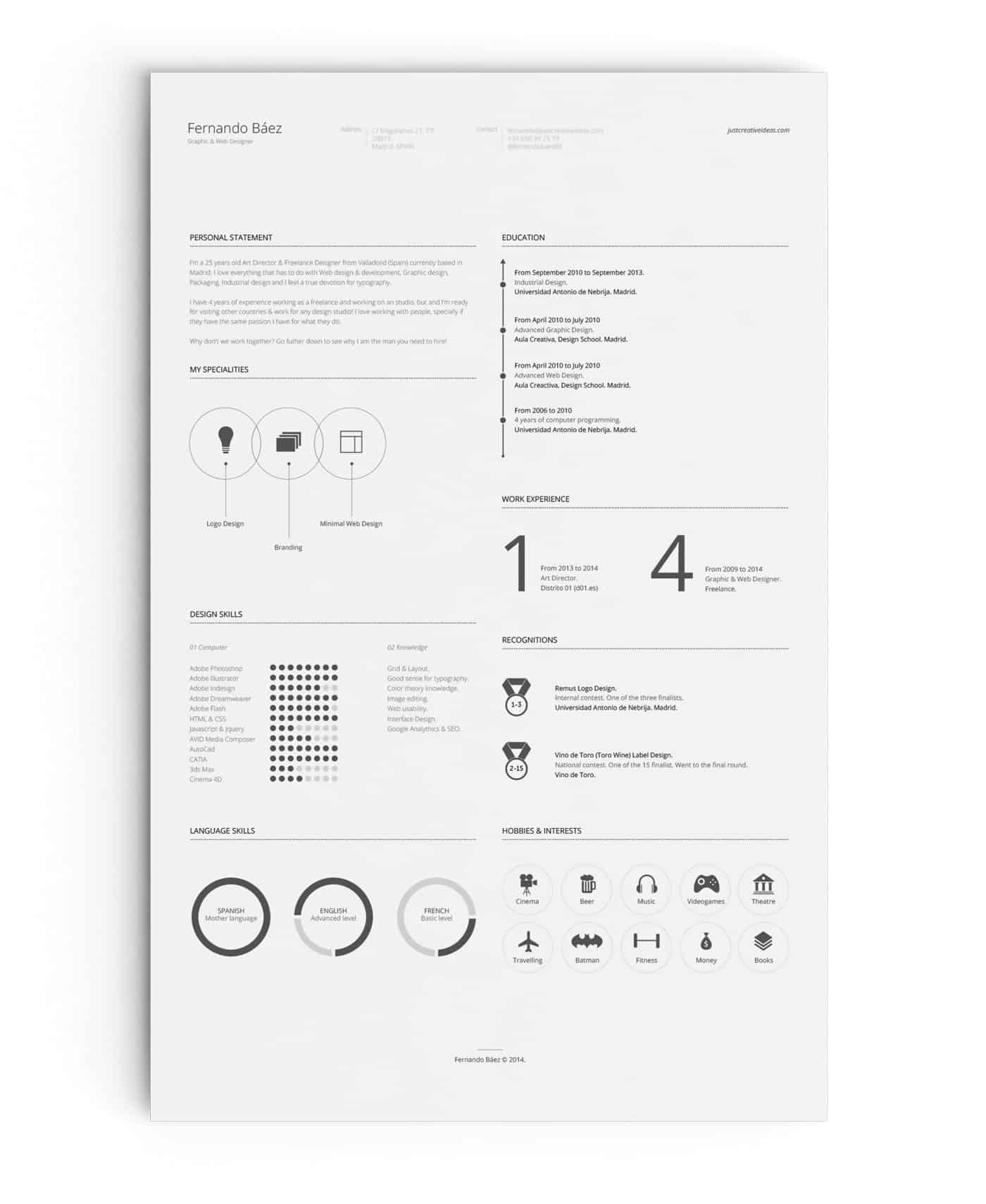 Two Page Creative CV Templates
Need to make that positive first impression? Don't look past this resume template PSD. This template will give you a confidence boost while giving your CV a polished look and feel. Fine-tune it to suit your recruiter's needs and give the job application a try.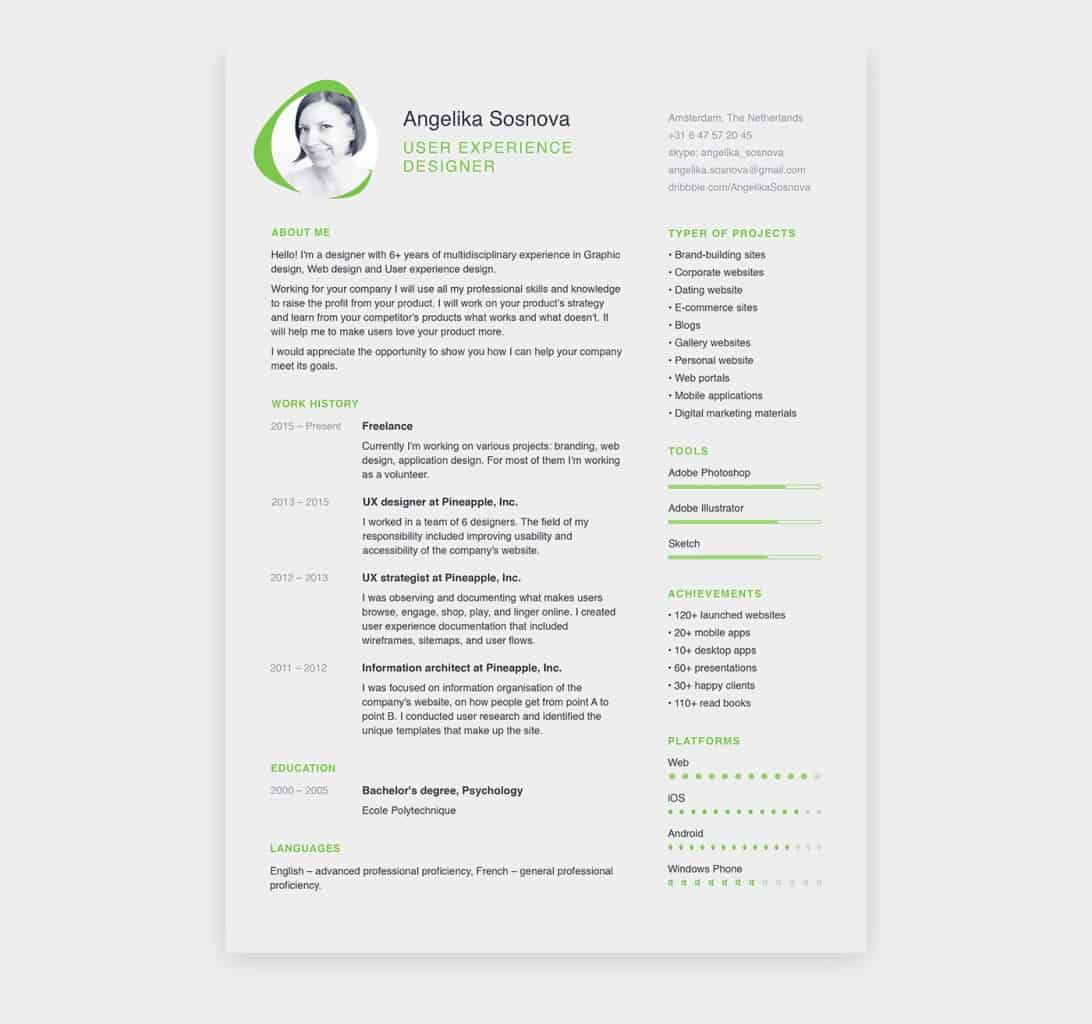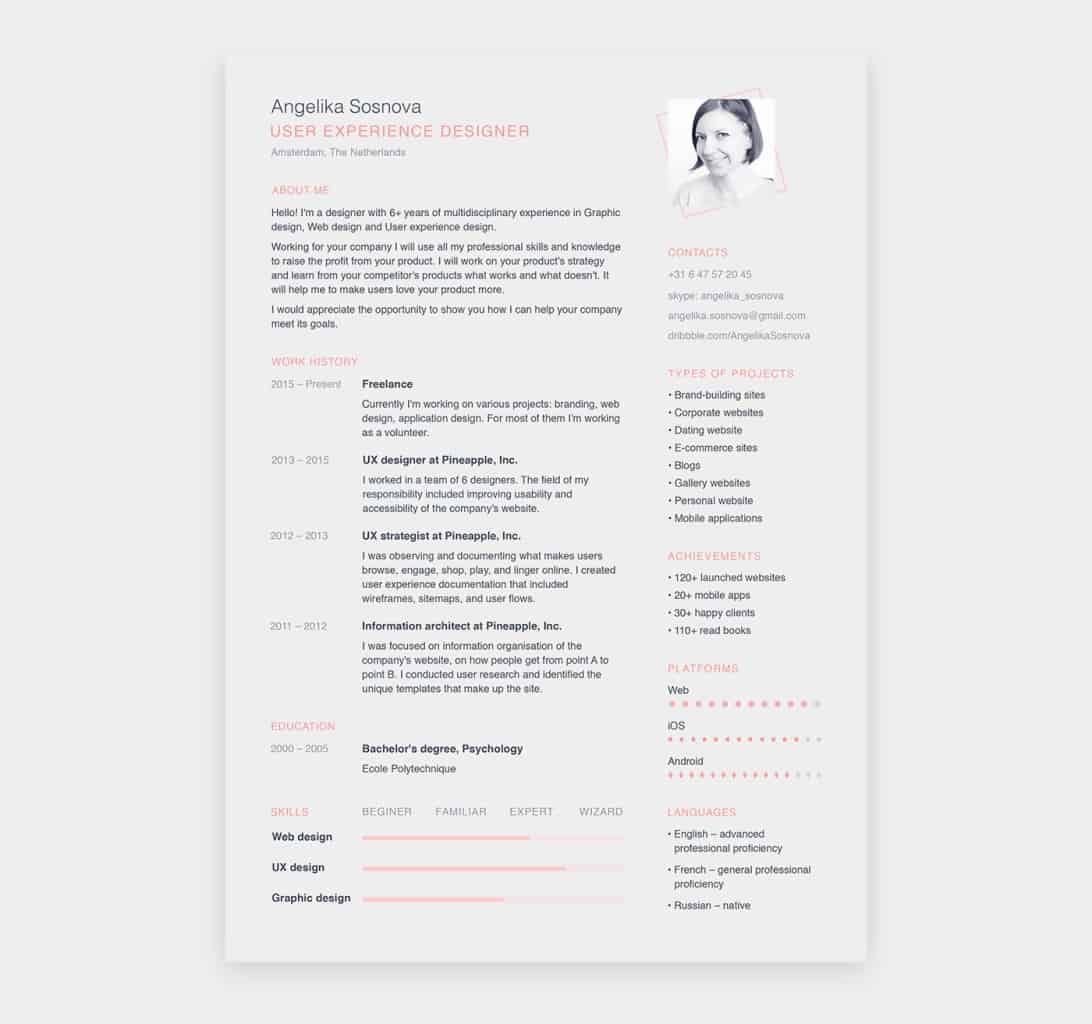 Free a4 Resume Design in PSD
Now for the so-called maximalism here is one resume template for you. This template is well organized with its bold sections. Recruiters will not fail to notice your conspicuously placed information. The editing is hassle-free and you should ease your way through it.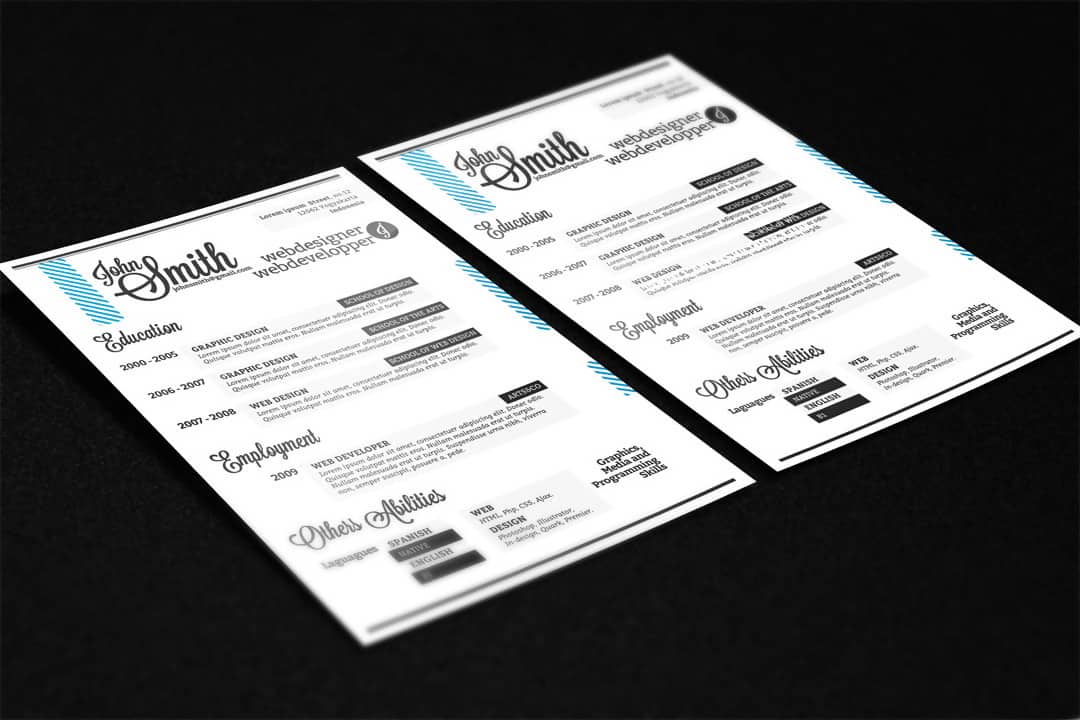 FREE Resume Template
Presenting another resume template PSD that is definitely worth downloading. The layout is well laid out and put together. The structure and content placement are easy on the eye. Employers will have an easy time picking out relevant information about you.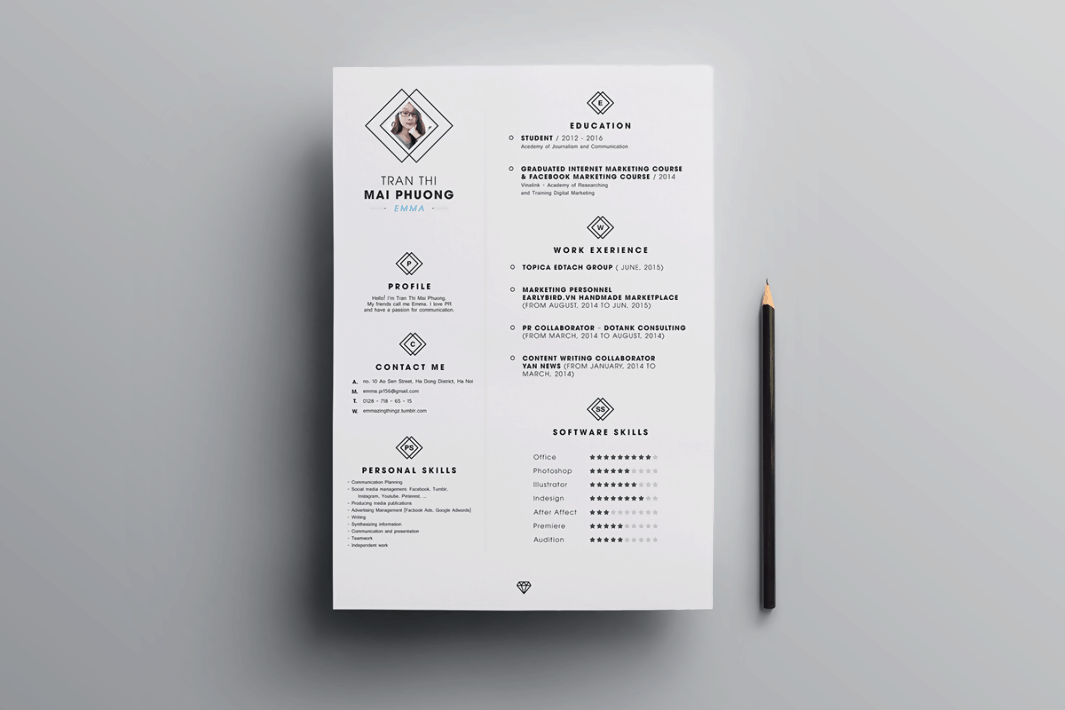 Stylish ResumeTemplate
This stylish resume matches the need for professional and creative resumes. Take advantage of its well thought out layout with timeline style. Your photo, social media, skill chart, references, personal info and profile all have a stylish place to appear.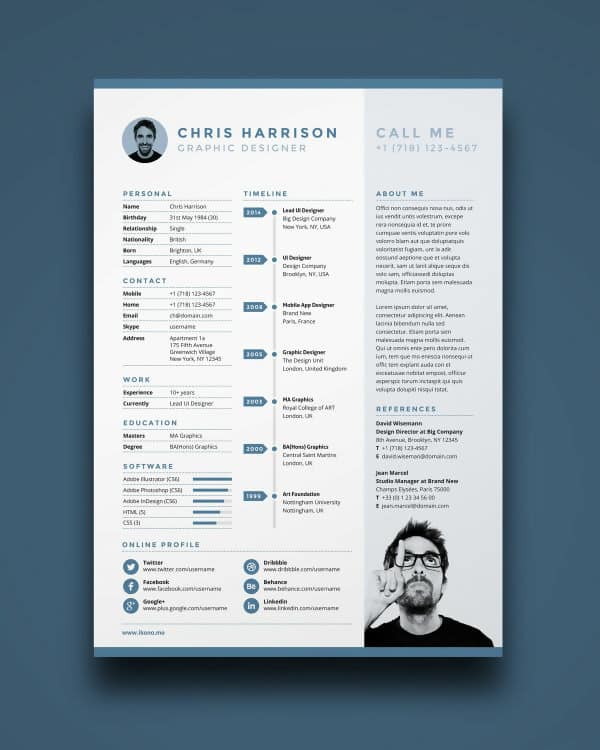 Clean and Creative Bio-Data in PSD
A perfect template for anyone out there, it doesn't matter what your profession is. This template packs a bonus for you also. It has a business card you can tweak to complement your resume. Customize this template with ease and be well on your way to that dream job.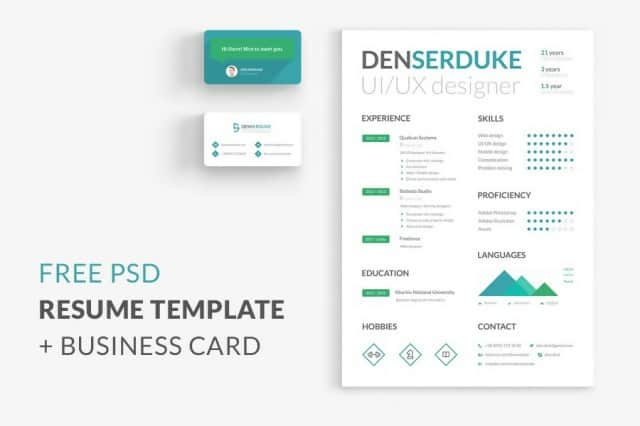 Modern Multi-page Resume Template
This resume template boasts five pages of layout. These are ready for profile summary, cover letter, education, work history, and portfolio. You will love the three-page color options available as well as the five color schemes provided. You are bound to be presented with limitless options here. Go ahead and take the opportunity this resume template presents. Go clean, go modern, and go professional with this one.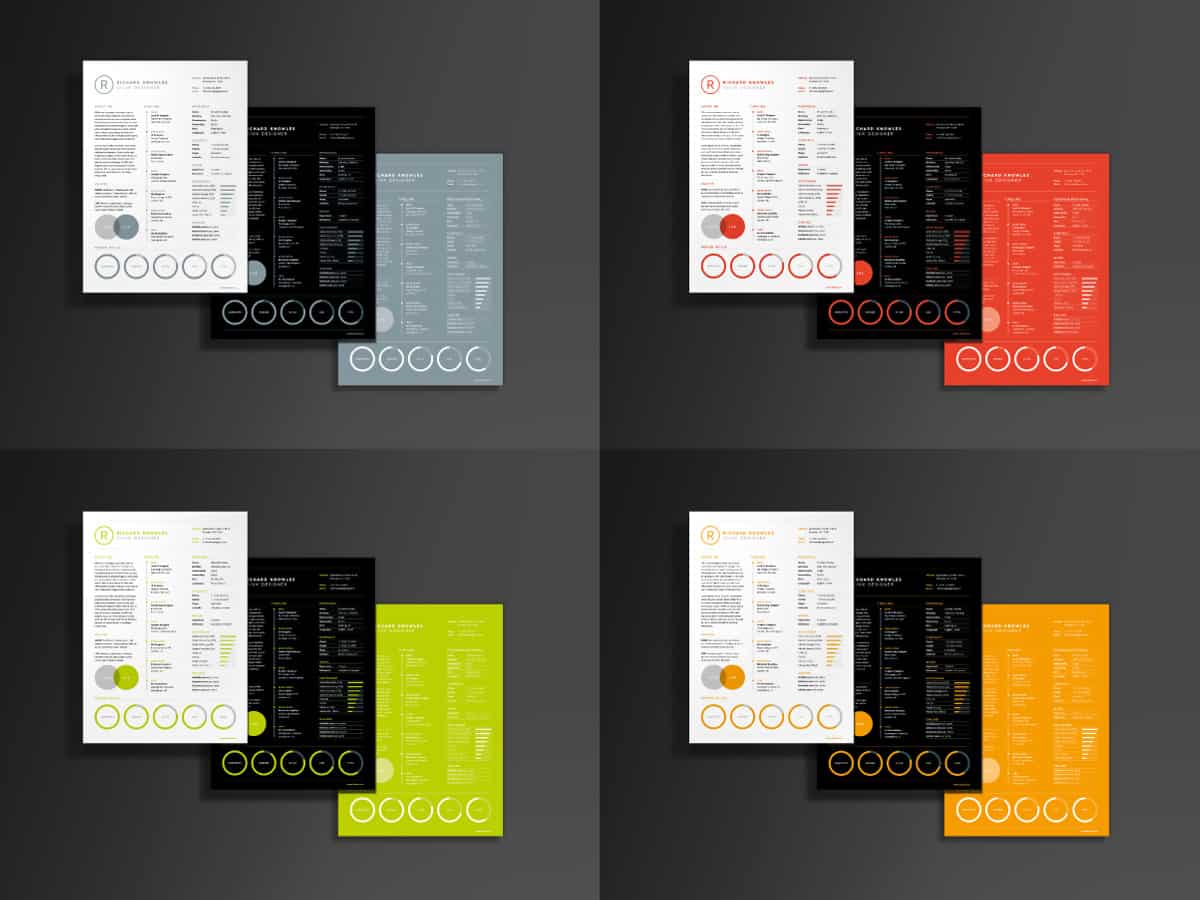 Grey Color Material Design Resume
Present your credentials in a cool set of color options. Warm grey, aqua, blue and dark grey color versions are at your disposal. The editable header and footer section allows for much more customization. Showcase your cover letter, resume and portfolio with the business card included here. Once done this dynamic resume template will leave a lasting impression of you.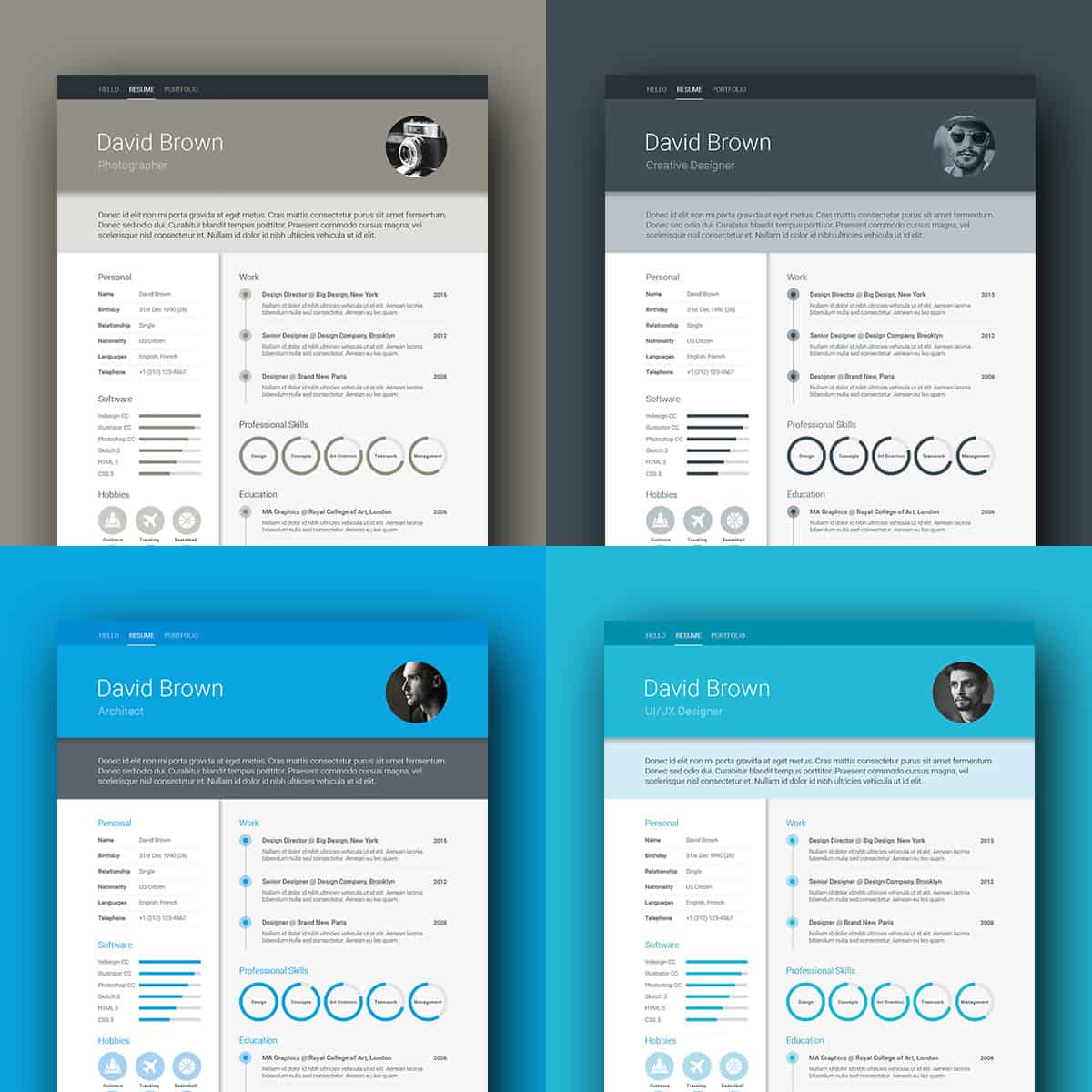 In closing
We all seek to make the best impression on our career paths. These resume templates PSD will be the best tools you can take advantage of. You need just to have Photoshop installed and you are ready to go. Editing of these templates is quite easy and straightforward. The niche of programmers, photographers, and designers, as well as other professional fields, are well catered for. These templates are ideal in this modern recruitment world that loves professional presentation. Go ahead and enhance your chances in convincing that potential employer. Present yourself clearly and in an organized way today.