When presented with the question of communicating your business, product or service value position, the most likely answer would be a brochure. Brochures have long been preferred as an effective advertisement, awareness, and promotion medium. In your quest for recognition and market positioning having a set of quality brochure templates, PSD will set you in the right direction.
In the business environment advertising runs the show and rakes in the buck. You need to have great content that is well laid out to inevitably capture your target audience. This is the norm in modern business. It is here that the great importance of brochures is revealed. Brochures are so crucial at the presentation of your business to clients that not having them is bound to ignite a self-destruction process. Brochures will showcase the services you offer, your products, your business processes as well as any achievements made by your venture. A well-designed brochure will in this regard present your information in a stylish way that is bound to leave an indefinite impression on anyone who comes across it.
Creative Free Brochure Templates PSD
Brochure templates PSD is an ideal choice to go with. You can, from them, craft service or product-related brochures of your choice. You will find out that there is no deficit in the variety of brochure template designs available. All industries have been well catered for, from the large to the small enterprises involved in either a product or service related field.
The brochure templates PSD comes in eye-catching and elegant styles filled with hi-resolution imagery. The brochure templates also come available as either bi-fold or tri-fold in form. Additionally, these forms can easily carry as much information as needed.
Remember that you are unbound as to what you can do with these brochure templates PSD. Insert logos, designs, and images as you see fit. So it is now time to kick start your marketing train and take advantage of the awesome brochure templates showcased below.
Brochure Template PSD
This brochure template PSD showcases color and imagery in a creative and warm style. This template is well suited to nutrition and wellness businesses, though it can still be modified for other business categories. The design in this brochure template PSD is both crisp and clear. The print quality of this template is set at 300dpi with a color regulation of CMYK.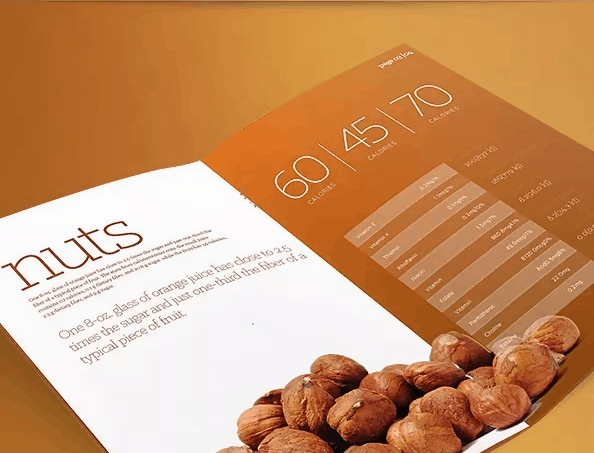 Free Brochure Templates
This brochure template PSD has a rustic and grungy theme which is well designed and put together. Besides this, the template also delivers in being stylish and clean. Any product or service business will be well served by this brochure template as its design and layout can work well anywhere. It's worth a try, don't just take my word for it.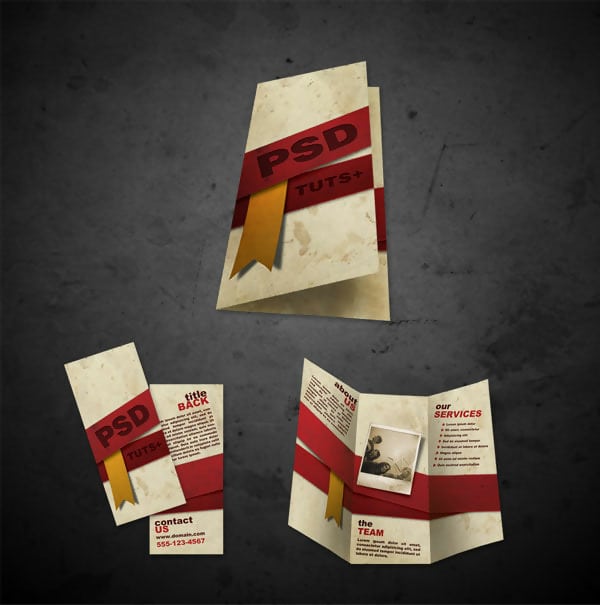 Tri-Fold Brochure PSD
The Tri-Fold Brochure PSD template will attractively showcase the products or services that your company offers. Furthermore, the elegance in style and cleanliness of this template will boost your company image. This creative brochure template PSD will with a few tweaks in color, text, and imagery, seamlessly fit all your company's marketing needs. Everything is set out in layers with appropriate grouping and separation.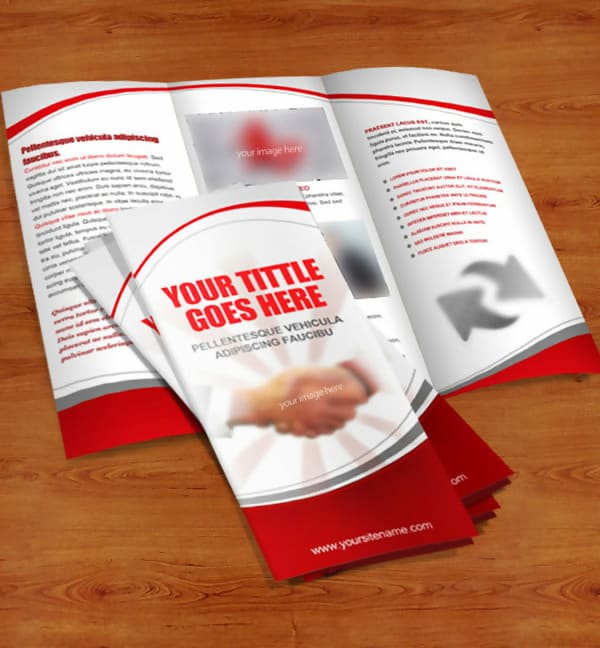 Brochure Template
A trendy, brightly-colored, flat design is what describes this daring brochure template PSD. The PSD file is composed of highly editable layers. Your content, logos, backgrounds, and images will fit in here with no hassle. The zip file packaged for download contains a tutorial on how to get the best out of this template.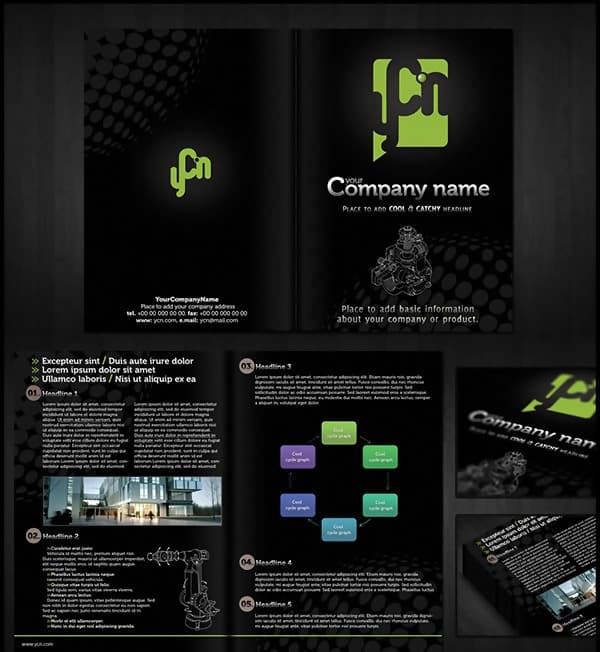 Free Real Estate Brochure PSD
Real estate is a vibrant market and there is no better visibility and marketing option for it than this real estate brochure PSD. Agencies at the corporate level, dealing in real estate, will be drawn to how well this brochure template showcases their product niche. This template has been creatively put together to offer sophistication in the presentation of real estate business services, products, and portfolios.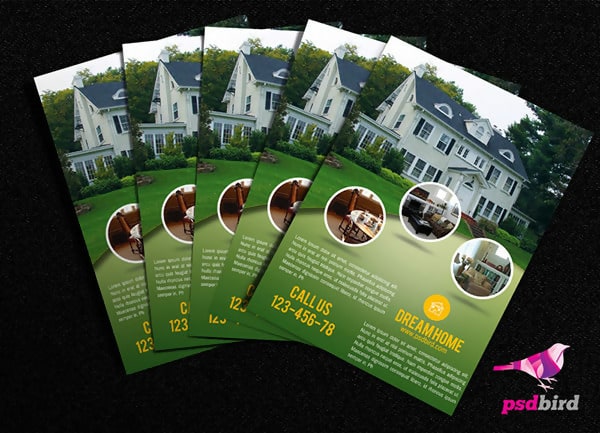 Free Pets & Animals Shop Brochure PSD
This is one sleek brochure template PSD. Furthermore, it's layout is cool and well presented. This pets and animals shop brochure template has two layout style options to chose from. Any pet-related venture will be awestruck by this cute brochure template PSD that is sure to wow and capture many a pet lover out there.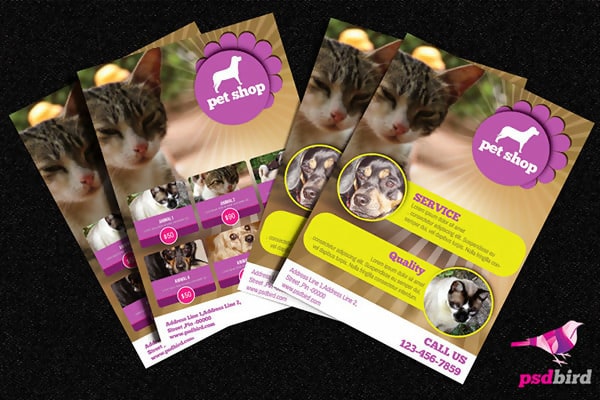 Brochure Template PSD
Vibrant minimalism describes what this brochure template showcases at first glance. Plenty of vibrant colors have been incorporated into this template with the addition of a superhero character. Consequently, this makes the template all the more welcoming and friendly in appeal. There is plenty of sprightly design, layout, and vibrancy in this template to ensure it grabs the attention of everyone even from afar.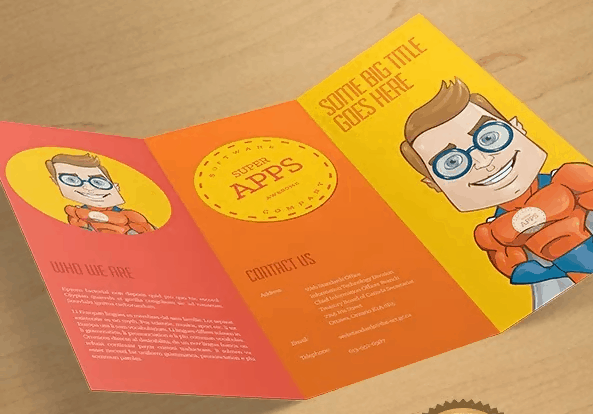 5 Free Tri-fold Brochure PSD Template Download
This is one of the few brochure templates PSD that can be considered as a true bonus for anyone. The 5 options packed in this template make it a great design asset worth having. The trifold layout and design showcased here are both crisp and blended to perfect color standards.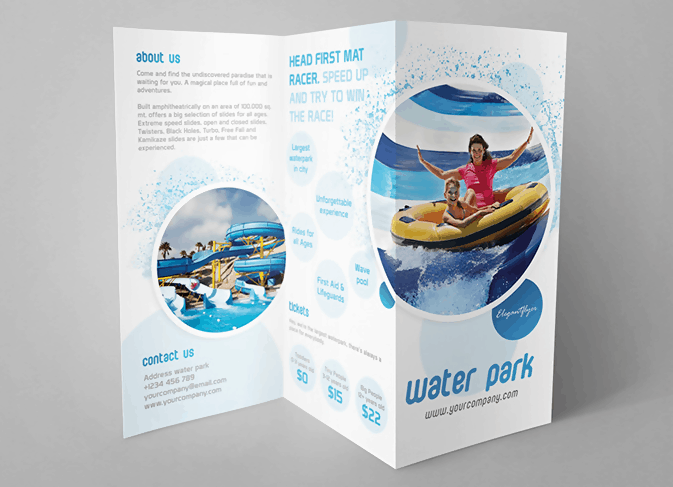 Landscape Brochure Mock-Up Template PSD Download
The Landscape Brochure Template PSD gives you the best in photorealistic effects. This template is great since you are not limited to how and where you can use it. Whatever the need might be, be it a small business or corporate enterprise, this template will fit impeccably it to the design and marketing purpose. The template is fully editable and comes in a pamphlet design with smart object layers.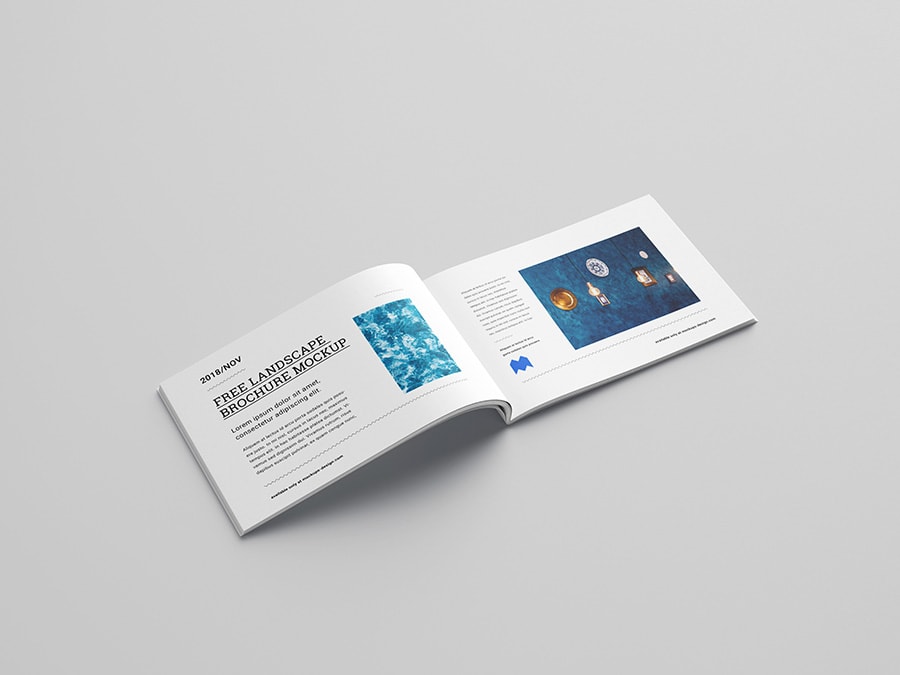 Carsive Brochure Freebie Template – 18 Page
Presenting 18 pages of pure brochure template design awesomeness. The Carsive Brochure Template PSD gets plenty of marks for its uniqueness, confident presentation, and creativity. Be sure to have to be deep-seated self-confidence and boldness in what you want to showcase should you desire to use this brochure template PSD.

Bifold Horizontal Brochure Mockups PSD
This template PSD showcases 4 pages of horizontally oriented and designed brochure pages. The bifold layout design of this template offers maximum room for your imagery and content. Additionally, you can achieve complete customization via the smart object layers.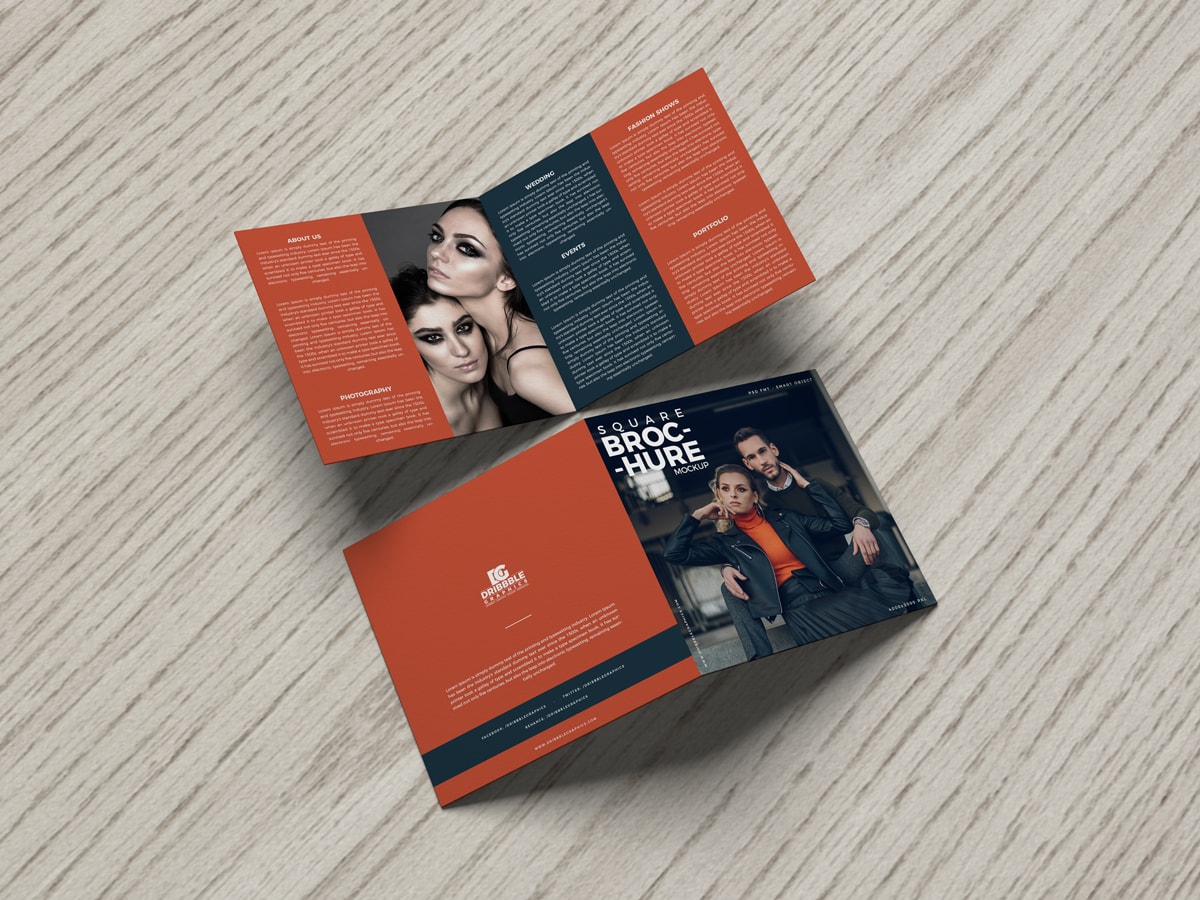 Large Trifold Brochure Mockup Template
This brochure template PSD is hugely popular with those in advertising and other business-related categories. This is mainly due to the large space available for placing text or image-related content. In addition to this, this brochure template PSD is user-friendly and comes in a variety of options to suit your diverse marketing needs.
Corporate Business Advertisement Brochure PSD Template
The Corporate Business Advertisement brochure template PSD does what its name describes. This template is your ideal solution for that long-overdue business proposal or business advertisement.  On your part, there aren't any tiresome processes involved. Simple steps in customizations and modifications will have the template looking the way you want it. The 300dpi resolution is an assurance for you that whatever is showcased will be attractive and stunning.
Education Tri fold Brochure Template
This trifold brochure template is ideally suited for institutions in the education sector. Furthermore, the professional layout and presentation features in this brochure template PSD match bothe non-profit and state-owned schools perfectly.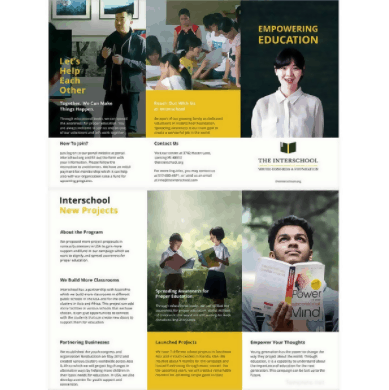 Editable Retro Brochure Template
This vintage look brochure template PSD will get your sales figures moving in the right direction. Apparel and clothing brand businesses are bound to have their products well-promoted through this brochure template. Get this template and its high-quality assets working for you now!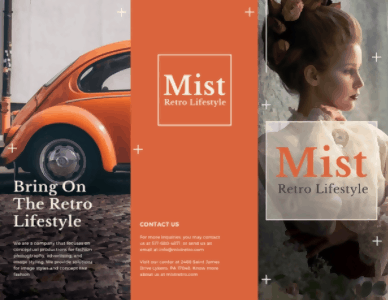 One Page Brochure Template
A one-page brochure template is often ideal for promoting your business cause or product. This particular brochure template is modern in design with a minimalistic touch. Editing this template is relatively easy. You will have your promotion tool well in place with a few clicks and keystrokes.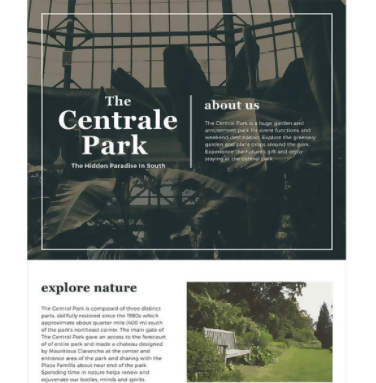 Diabetes Brochure Tri-Fold Photoshop Template
For the guys involved in the medical fields, this brochure template is quite ideal. The Diabetes brochure template is clean in layout and clarity of information and images showcased in it is guaranteed. Editing this brochure template is also quite easy. Switch images and placing of text won't be anything of a challenge for you.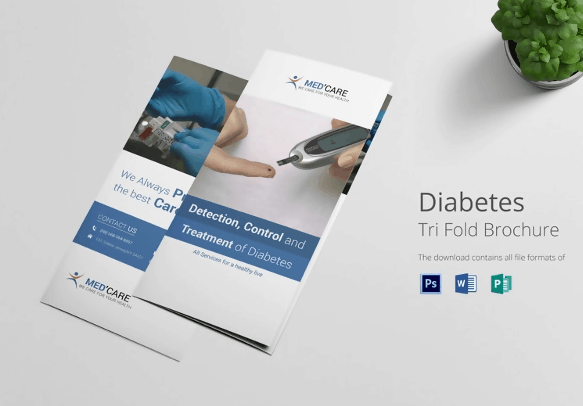 Travel Tri-Fold Brochure PSD Template
Tours and travels people here we go. The Travel Trifold Brochure PSD template is a well-laid out template built for travel and hospitality businesses. The template contains smart object layers grouped into relevant categories plus scalable vectors. The whole template is 300dpi in resolution, printable and fully editable.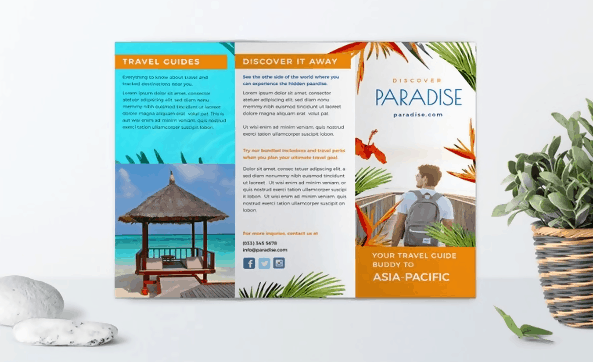 Travel and Tour Brochure Template
This I yet another hospitality-related brochure template PSD. The tour and travel business often need vibrant and cool layouts when showcasing what they offer. Likewise, this brochure template PSD contains high-quality reference imagery and colors befitting this niche. The layers in the PSD file are organized as groups while the image files can be customized via smart objects. The overall layout is editable to whatever level you need.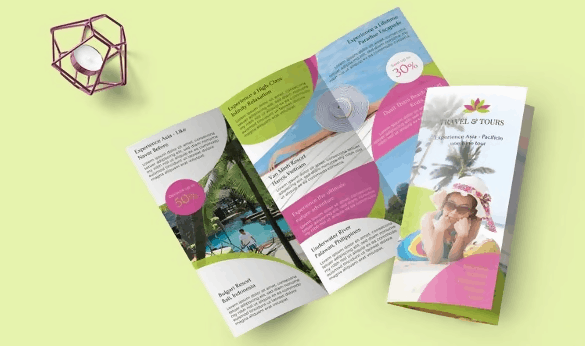 Charity Brochure Template
The Charity Brochure Template is of high quality in layout and design graphics. The photos included in this image are powerful and effective in conveying the message of the cause. This brochure template PSD is there for you to customize to suit your organization.
Education Bi-Fold Brochure Template
The time has come to make your education business know to the masses. This attractive bi-fold brochure template will convey your training venture effectively. Prospective students are bound to come in once they interact with the eyecatching images and text in this template. You won't be lost while editing this brochure template as every part of it has been put together for your maximum benefit.
Tri-Fold Interior Brochure Word Template
Want to generate more sales? Do you want more clients? Ask no more. The Interior Brochure Template will deliver for you all of this. This template is eyecatching and modern in design, aspects that are going to leave a lasting impression.  The well-layered contents and high-quality images in this template are fully customizable at your convenience.
Conclusion
As you seek to present your business concept to the market having suitable marketing tools will aid you in this regard. The brochure templates PSD that we have looked at above are an avenue that you can use effectively to communicate with your target audience. These ready to use brochure templates will also guide you along the right path towards being a marketing professional in your business niche.
Consequently, apart from market visibility for your services or products, you will get a dose of fresh ideas and inspiration from these awesome brochure templates PSD.